Menlo Park: The Invention Factory, 1876-1882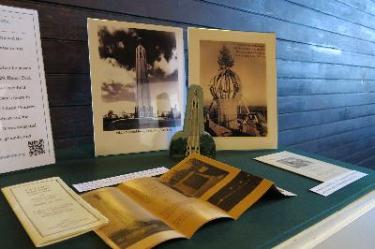 Thomas Edison's experience as a reliable telegrapher and the financial support of telegraph industry leaders gave him the resources to open his first Research and Development laboratory at Menlo Park, New Jersey. While there, he vowed to turn out a minor invention every ten days and a major one every six months.
In less than six years at Menlo Park, Thomas Edison and his staff produced 400 of his most important patents, including the phonograph, the perfected incandescent lamp, and the carbon button transmitter which made the telephone practical. He developed a complete system for generating and distributing electric current, and constructed the first electric railroad in the United States to test electrical distribution.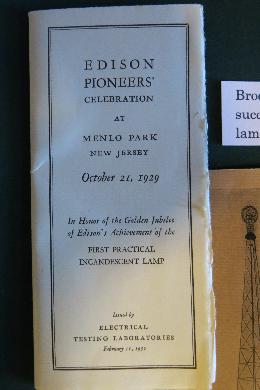 Edison abandoned the property when he moved operations to New York City. In 1929, Henry Ford relocated the remaining buildings to Greenfield Village in Michigan. Following Edison's death in 1931, his associates, known as the Edison Pioneers, commissioned a Tower to honor Edison and his accomplishments at Menlo Park. It was dedicated in 1938. You can visit the tower, grounds, and museum in Edison, New Jersey. (www.menloparkmuseum.org)
The exhibit features a photo of Edison at the dedication of the Menlo Park Tablet and Memorial in 1925 as well as 3 ribbons from the event. There are two photographs of the Edison Memorial Tower, construction of which began in 1937. A brochure from the rebuilt Menlo Park facility at Henry Ford's Greenfield Village in Dearborn, Michigan, is also on display.
Be sure to stop by the park and check it out!