Many thanks to Carla Eilo, our spring intern from Seton Hall University, for conducting the research and gathering the materials for this month's exhibit. Below is some text Carla put together describing Edison's ore milling business.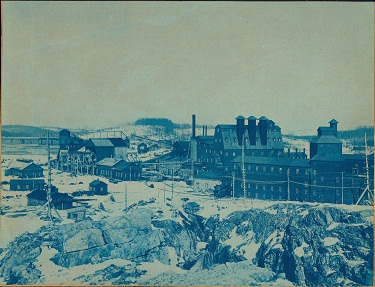 Thomas Edison spent the years 1890-1901 creating a mill to process low-grade iron ore. His idea was to turn the ore into high-grade iron briquettes, making it available to companies in the East, and selling it for a lower price than the competing mines in the Midwest. In 1889, Edison acquired the mining rights to the former Ogden Mine, located two miles from the northwestern New Jersey town of Ogdensburg.
Edison invented a series of large machines to process the low-grade ore. The machines would first crush the rocks in successively smaller pieces then, by using magnetic separators, remove the iron from the sand. Workers added the loose granules of iron to a resin mixture and pressed into circular briquettes that resisted absorbing moisture during shipping.
There were many obstacles Edison and his company encountered throughout the time the New Jersey and Pennsylvania Concentrating Works was in operation. The plant went through many stages of rebuilding equipment, causing production to slow or shut down completely. The company had to update or reconstruct buildings throughout the project, often causing a shortage of funds. The company found it difficult to keep workers due to long hours and lack of heat in the buildings. Nearing the end of the project, Edison could no longer compete with new mines discovered in the Midwest. Edison invested more than $2 million from his personal funds in the ore-milling project. In October 1900, the mill was shut down for the last time.