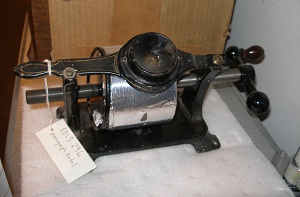 This month, Thomas Edison NHP's featured exhibit for the Year of Innovation includes an 1878 tinfoil phonograph. Invented in 1877 by Thomas Edison at his laboratory in Menlo Park, New Jersey, the phonograph made history for capturing and playing back recorded sound. Edison shouted a verse of "Mary Had a Little Lamb" into the recording diaphragm, and the machine successfully played it back on its first try.
This 1878 Brehmer Parlor model features a hand-cranked cylinder mounted between two diaphragms. Air passing across one diaphragm would cause a metal point, or stylus, to make incisions on tinfoil wrapped around the cylinder. Rewinding the cylinder to the edge of the tinfoil and exchanging one diaphragm for the other, the stylus was able to retrieve the sound waves and play back the recording.
Before becoming part of the museum collection here at the park, this phonograph exchanged hands a few times. It is believed that Edison gave it to George C. Sonn, an employee who left Menlo Park in 1879 to teach physics in Newark schools. Barringer High School in Newark, New Jersey then donated the phonograph to the Edison Company museum in 1950.
The Millburn High School Edison Club has adopted this artifact for the 2013-2014 school year and is raising money for its conservation. A conservator will stabilize oxidized areas and flaking paint, clean the overall surface, and apply a barrier coat to prevent future corrosion. The club is currently putting together plans for future fundraisers. If you are interested in helping out, please contact our curator Michelle Ortwein (michelle_ortwein@nps.gov)
The exhibit will run from December 13th until January so be sure to stop by and check it out along with a few other unique artifacts!