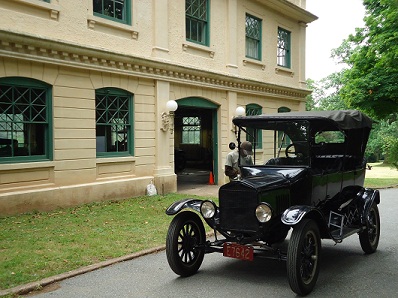 Thomas Edison's 1922 Ford Model T was actually given to him personally by Henry Ford himself. It is one of around 15 million Model-T's manufactured between 1908 and 1927. It's a 5-passenger touring car equipped with some interesting features. Not only does it have an electric starter and the traditional dangling crank, but the Model T features an adjustable windshield, a folding top, imitation leather upholstery, an electric horn, a vacuum windshield wiper, and a spare tire. Edison was chauffeured in the Model T to-and-from work; the chauffeur himself lived with his family in an apartment above the garage on the Glenmont Estate.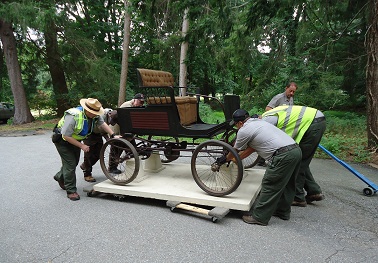 One of the more unique items in the museum collection, Thomas Edison's "Locomobile" was used for trials of the Edison Nickel-Iron Alkaline storage battery during the first decade of the 1900s. It is a two-passenger vehicle with an open runabout and is as much a "horseless buggy" as one might imagine. Locomobile was a company based in Bridgeport, Connecticut that started by producing steam-powered vehicles very similar to Edison's Locomobile.
Before switching to producing bodies for luxury cars, the Brewster company began by making carriages. In the 1920s, Brewster manufactured the bodies for imported Rolls Royce chassis. In the 1930s, with the Great Depression causing a slump in luxury car sales, Brewster made a limited number of bodies for Ford V-8 chassis. The distinctive grill was unique to these cars as Charles Edison's 1936 Ford Brewster illustrates.