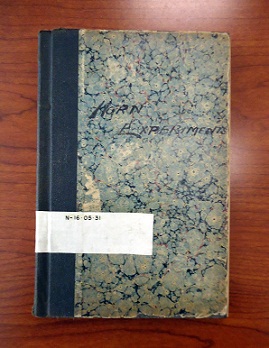 It begins in a wistful manner, "I have been restless all my life, never happy, never complacent, always striving for development, searching for something new, something that would add to my growth." The so-far anonymous memoir was brought to the attention of archivist Edward Wirth during a cataloging project of Edison's lab notebooks. The writer goes on to detail his travels from his home somewhere near Baltimore to out west in search of his calling. "I would rather fail in attempting a thing and have the failure all my own than achieve success through the help of patronage of someone else no matter how influential he may be," he wrote in describing how he wanted to pursue his life at a young age. His father was of some importance and he mentions having the opportunity of soliciting the help of a local Senator. Not wanting to rely on his father, the young man sets off trying to make it on his own and independent of his family's influence.
His travels took the young man from a stint in bookkeeping to a wholesale whiskey business where he washed bottles for $3 a week. Learning, however, at the age of 20 that his father planned to give him an interest in the family business on his 21st birthday caused this young man to make a critical decision in his life.
Intent on seeing a bit of the world for himself, our writer traveled out to Colorado where a friend had a cattle ranch. Telling his disappointed family of his decision to work at the ranch, not knowing if he "would be gone a month or a lifetime," the young man concluded, "I was out to see the world for myself."
Ironically, it was after a night at the "old Astor House" in New York City that the young man began his trek out west, including stops in New Orleans, Houston, Oklahoma, Kansas, and lastly Colorado Springs. Travelling to the ranch, which was located in Yampa, Colorado, proved an interesting journey for the traveler, including a blizzard that prompted an early morning 3:00 A.M. arrival.
The account leaves out the details of his stay out west, and picks up his return to the east where he returned to the whiskey business of which his family was apparently involved. It is at this point that the narrative turns towards his singing career. Enrolling in the Institute of Musical Art in New York City (which became the Juilliard School of Music) meant informing his family that he would not be taking control of the family business with his brother. "Naturally the family was much opposed to my doing so," wrote the man, "but I was pretty sure of myself." He believed that "The business in Baltimore did not seem promising enough to justify a sacrifice of my genuine desires and ambitions," and so he left his "very capable and fully competent" brother to "run the business by himself.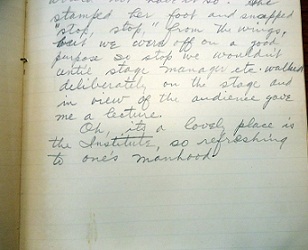 His musical exploits clearly excited the writer, and is the mostly likely reason for his being at Edison's laboratory to write the entry in the first place. Until further research is done, the writer remains a mystery, but his entry is nonetheless fascinating.