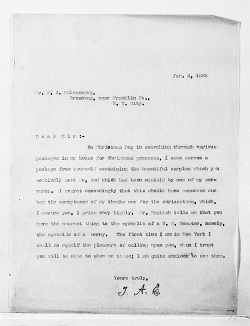 One of the most frequent questions we receive here at the park concerns what Thomas Edison was like as a person. Despite being a seemingly larger-than-life figure, Edison was like most of us: complicated with many inconsistencies.  The park's extensive manuscript collection, totaling some 5 million documents, help provide us a window into Edison's personality. Featured here is just one such document, a letter Edison wrote in 1888 thanking Mr. F.J. Kaldenberg for a Christmas present. 
Edison begins by apologizing for not thanking Kaldenberg sooner, but then quickly launches into a personal request. Through a mutual friend, Edison learned that Kaldenberg possessed a pair of mummy eye balls. As you read the letter, Edison's genuine interest in seeing these oddities is  visible and that it clearly captured his imagination. "Quite anxious" to see the exotic specimens, this titan of business and world-renowned innovator had every intention of detouring from his busy schedule to do so. Edison had a genuine curiosity for the world around him - almost childlike at times. In many interviews, for example, he liked to say that his stock room had "everything from the hide of an elephant to the eyeballs of a senator." [If you stop by the lab we can show you the elephant hide, but as far as we know he never acquired the Senator eyeballs.] 
We don't know if Edison ever did see the mummy eyeballs, but we do know from this letter and oral histories that he always had a passion for his work and the world around him.