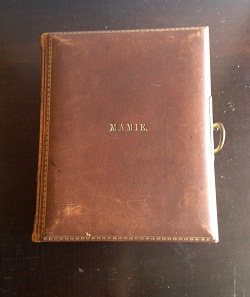 A thick, leather bound volume, imprinted with the word "MAMIE" sits curiously on a shelf on the third floor of Glenmont, an area mainly used as servants' quarters during the Edison era. It sits in what was Charles Edison's room, an area that now houses a unique collection of books containing everything from children's storybooks written in German to company seed catalogues.
The volume contains a rare collection of Miller family photographs amassed by Mary Emily, Mina (Miller) Edison's sister, who was affectionately known as "Mamie." Handwritten notes scrawled on tiny pieces of paper, tucked into the edges of some photographs, reveal a family member's (or a museum staff member's) insistence on preserving the identity of these nameless faces. Such artifacts intrigue modern onlookers as they ponder all of the people that came before who first identified the need to capture these historic facts before they were forever forgotten.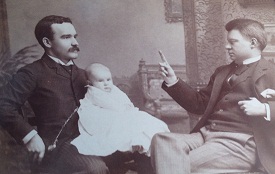 The quality of the photographs is equally impressive. This carefully constructed scene here is identified as depicting two of Mina's brothers and her nephew. Interior details hint at a lavish lifestyle: expensive wallpaper, an Eastlake style arm chair, a potted fern. The men, appearing to be deep in conversation, wear finely made clothes complete with a pocket watch and a perfectly folded pocket handkerchief. Imagine the modern home portrait, complete perhaps with a sink full of dishes and a wrinkled sweatshirt, compared with the pomp seen in the image.