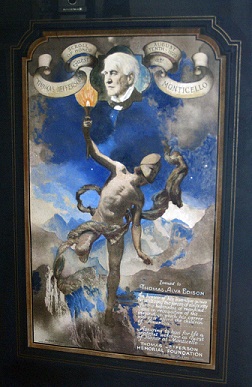 This eye-catching certificate, located in the Library at the West Orange Laboratory, was awarded to Thomas Edison in 1929 by the Thomas Jefferson Memorial Foundation at Monticello. The Foundation elected Edison as the first "Nation's Guest of Honor" as a tribute to outstanding service in "science, art, education, literature, or government."
It is a watercolor painting of Prometheus descending from Olympus with his "torch of the gods" fire. He wears a silver helmet and a drape. With one leg straight and the other bent at the knee, he holds the torch in a raised hand and stares downward. Many mountain peaks, snow covered and precipitous, jut in the background. Above Prometheus is a medallion containing an image of Edison. This is surrounded by scrolls holding the words: "Scroll of Honor, Guest, Thomas Jefferson, August, Tenth-1929, at, Monticello." In the lower right corner is a section containing 14 lines of words in white ink honoring Edison:
"Issued to Thomas Alva Edison in honor of his inventive genius in utilizing the forces of electricity for the happiness of mankind...and in recognition of the...inspiration which his career will ever afford the children of American. Assuring to him for life a grateful welcome as Guest of Honor at Monticello. Thomas Jefferson Memorial Foundation."
It is a befitting certificate for Thomas Edison since, in the Western classical tradition, Prometheus represented invention, progress, and the quest for scientific knowledge.
Maxfield Parrish originally created the "Prometheus" image in 1919 as part of a series of advertisement calendars produced by the Edison Lamp Works of General Electric Company. Parrish, an American painter and illustrator, was one of the most popular artists in the first half of the 20th century. By the 1920s he was the highest-paid commercial artist in the United States. His works were also featured on magazine covers and in children's book. One of his often-recurring themes were Eden-like, fantasy landscapes as seen in his best-known work, "Daybreak."
Parrish also painted murals, such as the 25-foot long "Old King Cole" at the St. Regis Hotel in New York City. Parrish was famous for the intensely brilliant colors that he used in much of his artwork; the color "cobalt blue" was renamed "Parrish blue" as a tribute to him.