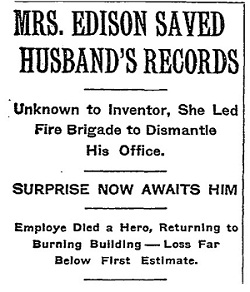 As the park bids farewell to our high school interns Nick and Evan, they're exhibit is complete and open to the public. This final post features one of the more interesting stories from the fire as well as messages sent to Edison from some of his more famous contemporaries.
This is the final installment of our fire exhibit here at the Thomas Edison National Historical Park. There are many stories to tell, many of which were documented by the newspapers at the time. In our exhibit, we have included several newspaper headlines from around the world in reaction to the fire.
One of the most interesting stories that were shown in the papers was Mina's role during the fire. Although her husband, Thomas, was in the cement storage battery building across the street, Mina also came down to the laboratory to try and save what she could.  When she heard that a fire had broken out, she immediately thought of her husband's life work, and knew that she had to try and preserve as much as she possibly could. It would have been a tremendous shame if Thomas lost all of his life work in a fire, in addition to his entire Laboratory complex.
Mina came down here to the Laboratory building, and immediately began directing workers in taking objects from the Library and up to the Glenmont Estate. Workers carried up anything from prototypes to statuary, paintings, notebooks, and other important papers.
Mr. Edison, however, never knew that this happened. To have seen all of his life's work on his front lawn would have made him even more anxious about the fire. Although Building 5 was never destroyed by the fire, Mina and the workers' efforts to preserve a collection of Mr. Edison's work would certainly have helped ease some of the pain had the entire complex gone down in flames.
In addition to Mina's role in trying to save Edison's factory from the fire, several other letters and telegrams to Edison tried to lift his spirits or offer support to the celebrity inventor.
This telegram is from President Woodrow Wilson: 
"I cannot deny myself the pleasure of sending you a line to say
how greatly I admire your action in the matter of business after
the loss of your plant. It is very fine, not only, but shows a degree
of courage and of public spirit which excites my most earnest admiration."
This is from Nikola Tesla:
"As one of the millions of your admirers, I send you my sympathy.
It is not only a personal and national loss, but a world loss, for you
have been one of its greatest benefactors."
From George Eastman, President and Founder of Eastman Kodak:
"On my way up from the South I was startled by the reports of the
fire in your works. On my return home I found our people had expressed
their sympathy, but I want to add mine personally and to say to you that I can
sympathize with you because I have been through the ordeal once myself.
You have my best wishes for an early resumption in every department.
If we can be of any assistance you have but to command us."
These quotes really exemplify the influence and the extent of Edison's work. Telegrams like these illustrate how widespread the news of the fire had carried as well as the relationships Edison had with some of his famous contemporaries.
--Nick & Evan