As their project develops, Nick and Evan will feature updates on their experiences. Below is their first project related post, enjoy!
               This is the first blog post relating to one of the projects that we will be working on while here at Thomas Edison National Historical Park. This post, in particular, is about a small exhibit we will be working on in the third floor of the main Laboratory building. (Here at the park, referred to as "Building Five") The exhibit we are working on will be displayed in a glass case, and will be primarily focused on the Edison Fire Company, and the Great Fire of 1914.
               Upon arrival, we were given a grand tour of the entire complex, and then took a more detailed look at some of the cases on the third floor of Building Five. The third floor features a large exhibit relating to Edison's phonograph endeavor as well as displays of various artifacts that the Park Service has accumulated and cataloged. While looking at some of the exhibit cases on the far end of the floor, we found a case with a large amount of fire helmets, eleven to be exact. We decided that the case had a lot of potential to tell the story of the fire company and the Great Fire of 1914 that destroyed a large portion of the complex.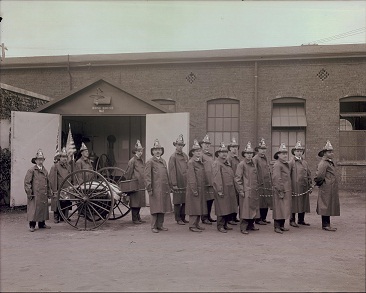 After deciding what to focus on, we began the long, yet rewarding process of organizing the set-up of the exhibit.  We first wrote down everything that was in the case, so we had an understanding of what artifacts were already available.   The next step was to essentially find other objects that would aid the story that we were trying to tell.  Every artifact is catalogued, and can be found in either a hand-written or online record.  We began by searching for anything that related to the Great Fire, or the fire companies here at the site. We found records mentioning photographs, newsletters, fire hoses, fire hose nozzles, fire alarms, fire extinguishers, fire drill instructions, and so forth. Each of these items are all assigned a unique EDIS number, (a park-wide identification number) designed to aid in the search for the objects. 
              So began the search for the artifacts.  This park is unique in the fact that it has one of the largest collections of artifacts in the National Park Service. Although this is great, it means that finding artifacts can be tricky. Each artifact's location is documented and can be located on special maps used by the Curatorial Division. We were largely successful in finding what we needed, although it was certainly an interesting process. Now that we have all of the artifacts that we would like to put in our exhibit accounted for, we will start the process of organizing the text, layout, and all other aspects to get the exhibit up and running.  
 -Nick & Evan