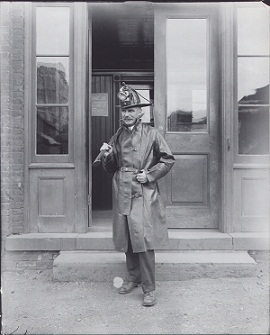 This is the second installment of our blog feature, which aims to provide a first-hand look at the process of creating an exhibit.  We talked briefly in our last post about what our exhibit will primarily be focusing on: Edison's Fire Companies and the Great Fire of 1914. This post will aim to tell a story, one of humanity and of great historical importance. And so it begins…
Edison ran a huge operation here at West Orange. The entire laboratory and factory complex included dozens of buildings and over 10,000 workers at its peak. When it was built, this facility was the largest research and development operation in the world. Such a large complex required its own Fire Department, two to be exact. The first fire department was the Edison Laboratory Fire Department, originally created in 1912 by Edison's Chief Engineer, Miller Reese Hutchinson. Members were still laboratory employees, but now received an additional twelve dollars per year for their extra firefighting duties. Hutchinson also laid down rules governing fire drills and related matters. The Edison Laboratory Fire Department was primarily responsible for protecting the laboratory buildings, including Building Five and the Chemistry Laboratory. The second fire department, established in October 1914, was the Edison Fire Department which protected both the laboratories and factories and had two chiefs and seventy-two men. These fire departments had drills regularly, and were well prepared when the Great Fire of 1914 struck.
At exactly 5:15, December 9, 1914, fire had broken out in Building 41, the Film Inspection Department. The fire was eventually determined to have started in a can with nitrate film, a highly flammable substance.  By 6:20, six other buildings had ignited, and by 7:40, yet another six buildings, bringing the total number of buildings on fire to thirteen. By 8:55 p.m., both the Montclair and South Orange Fire Departments had arrived to help battle the increasingly wild flames. Twenty-five minutes later, the fire reached its climax when chemicals in the burning buildings ignited, causing an extreme discharge of both heat and flame. Carried by the wind, these flames reportedly reached heights of over 100 feet and spread 5 blocks. Due to the chemicals in the fires it was necessary to allow the buildings already ablaze to burn themselves out. Throughout the night, over 10,000 people came to watch Edison's buildings burn. Even Thomas Edison himself watched in amusement at the fire, and even called for his wife, saying, "Get [Mina] over here, and her friends too. They'll never see a fire like this again."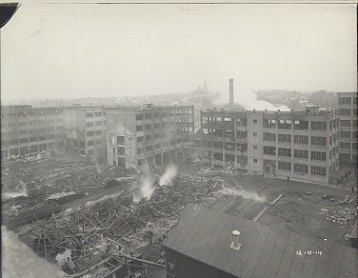 Unfortunately, there was one fatality during the course of the fire, Edison employee William H. Troeber. The circumstances surrounding his death are still debated today. Some say that he reentered the building in order to retrieve his jacket. However, recent research has uncovered information that suggests Mr. Troeber returned to the building, fire extinguisher in hand, to help some trapped workers escape the deadly flames. He was found with what The New York Times described as a "melted remnant of what had been a fire extinguisher." We're still working to determine why Troeber reentered the burning building.
The day after the fire, Edison began to direct a crew of 1,500 men in clearing the ruined buildings and removing the debris. A few days later, Edison rented factory space in nearby towns in order to resume work. Within three weeks, Edison's factories had been partially restored, and by New Year's Day most of the personnel were again feverishly at work.
Stay tuned for another installment where we'll discuss the reaction to Edison's fire in the media and the response he received from friends and strangers alike.
--Nick & Evan