"It has a violent action on the nerve centers, producing degeneration of the cells of the brain, which is quite rapid among boys. Unlike most narcotics, this degeneration is permanent and uncontrollable. I employ no person who smokes cigarettes." So wrote Thomas Edison on April 26, 1914 to his good friend Henry Ford. Edison's feelings towards cigarette smoking were well known. In fact, most visitors to the laboratory today will notice the posting by Mr. Edison on the company time clock at the entrance to Building 5 that reads, "Cigarette smoking in the Laboratory must be stopped. Anyone disobeying this order will be dismissed."
Edison firmly believed that cigarette smoking caused serious detrimental effects to the brain, especially of young people. Little did he know that his statements against cigarettes, and his policy at his works, would spark off a firestorm of debate. His good friend Henry Ford circulated Edison's comments, launching him into a fierce public debate over cigarette smoking.
The Newark Call covered Edison's decision to ban cigarette smoking amongst his workers in a May, 1914 edition, stating, "Thomas A. Edison, whose correspondence recently with Henry Ford, the automobile manufacturer, has put him in the new light of a crusader against cigarette-smoking, posted his entire works yesterday with anti-cigarette signs, helping to tack up the signs with his own hands."
           O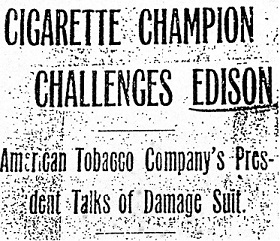 n May 18, the New Britain Herald, a Connecticut newspaper, detailed the response to Edison's comments by American Tobacco Company president Percival S. Hill. Hill sent a letter to Edison "in defense of the cigarette and the cigarette smoker," saying, "Slander of the cigarette by parties of less prominence than yourself attract no attention, certainly from us." However, "Since your prominence and fame give your words greater weight…there is imposed upon you a corresponding responsibility to make no statement reflecting on a product—and on the millions of users of such product— without investigation and the certainty that comes from investigation."
Hill's defense became stronger, warning Edison, "If you see fit to make a statement of the harmful effect of any of our brands in such form that being false it is libelous we will be delighted to institute suit for damages and will devote the proceeds to some designated charity." Clearly bringing the debate out into the public, Hill continued in defense of the cigarette, stating, "The scientific facts are all in favor of the cigarette, and no man can change these facts…" According to Hill, the scientific community was wholly in belief that "the cigarette is absolutely pure." Hill urged Edison to either "prove your contention or enable us as manufacturers to disprove it." Hill continued, "We believe that upon investigation and reconsideration you will admit your error and give as much publicity to your retraction as you gave to your original unwarranted attacks." Edison himself did conduct experiments on the cigarette, finding the burning of the paper to be particularly dangerous.
The whole debate is an interesting episode. While Edison himself preferred cigars, he found that the burning of the cigarette paper had a clear impact on the human brain. His ban on cigarettes in his factory remains one of the more noticed nuances for visitors to his laboratory today, and the debate sparked off by this decision remains an interesting episode in the factory's history.