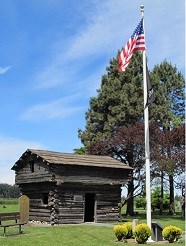 Ebey's Landing National Historical Reserve is unique to the National Park System, celebrating the rich history and the working rural landscape of central Whidbey Island.
From the enabling legislation that created Ebey's Landing NHR in 1978:
"There is hereby established the Ebey's Landing National Historical Reserve (hereinafter referred to as the "reserve"), in order to preserve and protect a rural community which provides an unbroken historical record from nineteenth century exploration and settlement in Puget Sound to the present time, and to commemorate –
1. ...the first thorough exploration of the Puget Sound area, by Captain George Vancouver, in 1792;
2. ...settlement by Colonel Isaac Neff Ebey who led the first permanent settlers to Whidbey island, quickly became an important figure in Washington Territory, and ultimately was killed by Haidahs from the Queen Charlotte Islands during a period of Indian unrest in 1857;
3. ...early active settlement during the years of the Donation Land Law (1850-1855) and thereafter;
4. ...and the growth since 1883 of the historic town of Coupeville."
Explore the Reserve and discover what makes this place special in the history of this country. Ebey's Forever!