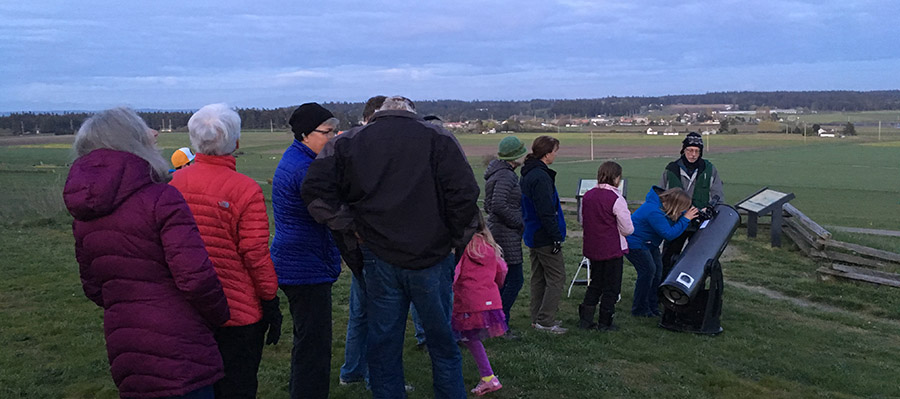 (Image Credit - Whidbey Camano Land Trust)
It's a pretty special time of year here at Ebey's Landing, and not just because the farmers are planting and the bees are buzzing.
We have some amazing events coming up
here
and
here
, and it's also International Dark Sky Week and the start of Global Astronomy month. As anyone who's ever spent time in central Whidbey Island knows, we have some pretty incredible dark skies considering our proximity to big population centers like Seattle, Vancouver, and Bellingham. The Whidbey Camano Land Trust and the Island County Astronomical Society Society kicked off the month with an awesome start party at the Prairie Overlook. About 40 people showed up to see stars, nebula, the moons of Jupiter, and more.
If you missed this event, or just want to learn more about stargazing in your own backyard, we've put together a set of nine tips and a couple of links to get you started. 
The Night Sky Nine
Nine tips to help you can enjoy the night skies no matter where you are.
Find some sky - Look for places with clear open views of the sky. Night skies change throughout the year and visibility can be affected by temperature, humidity, dust, and elevation.
Close your eyes - Allow time for your eyes to adjust to the darkness. Closing your eyes for a minute is a great way to start your stargazing. Your eyes will begin to adust immediately. After ten to fifteen minutes, your night vision will be greatly improved, but maximum night vision can actually take several hours.
Look at things in a new light - Use red or orange lights instead of white or blue lights. If you don't have a red-light feature on your flashlight or headlamp, use red celophane to shield white lights. 
Plan ahead -There are lots of resources out there to help beginning star-gazers know what to look for..
Find a Guide - Sophisticated optics can be a lot of fun, but they aren't necessary for most beginners. A simple pair of inexpensive binoculars is all you need to get started. As you gain experience observatories or local astronomy clubs are a great way to learn about more expensive tools.
Go Digital - There are dozens of great smart phone apps that help demystify the night sky. Find one that offers a night time mode that does not impact your night vision.
Join a Community - Local clubs can be found throughout the country. Clubs, observatories, and parks all host events to help you learn about and experience the night sky. Find an event near you.
Practice Makes Perfect - Don't get discouraged! It takes time and practice to become familiar with the night sky. Pick a constellation, star, or planet that you love and try to find it every night. LIke a new neighborhood or city, the more time you spend exploring, the more familiar the night sky landscape will become.
Get Involved - Night skies are an important resource. Join a club, teach your friends and family about a constellation, and help support the night sky community wherever you live.