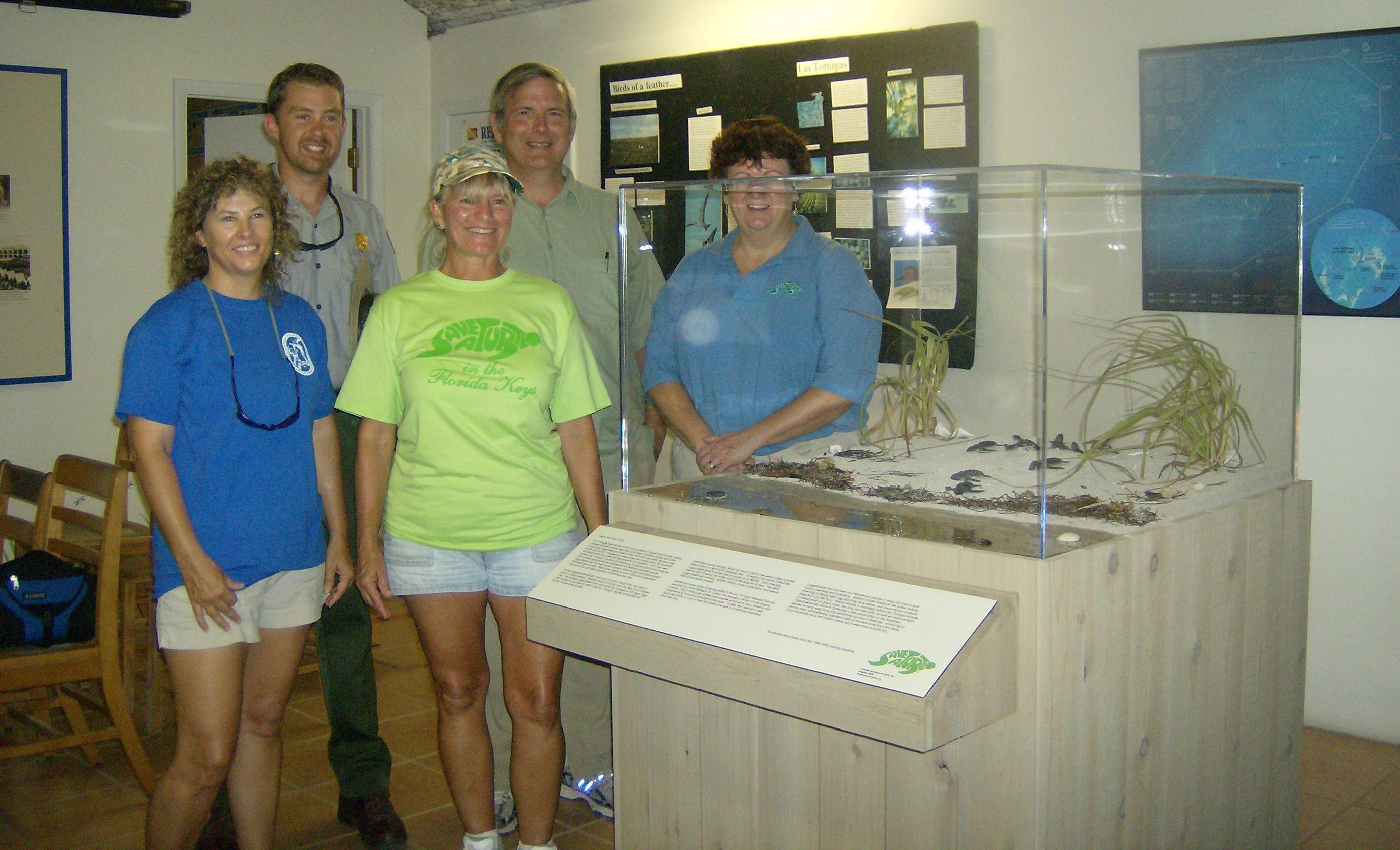 News Release Date:
November 3, 2009
Contact: Linda Friar, 305-242-7714
Dave Walton, Dry Tortugas National Park Site Manager, is pleased to announce the addition of a diorama on sea turtles to the park Visitor Center. This innovative educational exhibit was provided through a partnership with the Save-A-Turtle Organization, the Yankee Freedom 2, and other community members who helped create, deliver, and install this three-dimensional display for our visitors. "The Park and our visitors are just thrilled with the new turtle exhibit," says Walton. Our sincere thanks go to the Save A Turtle Organization and the other supporters who helped make this possible!" Turtles are an important part of the habitat in and around the Dry Tortugas National Park. The park was actually named "Las Tortugas" by Ponce de Leon in 1513, because of the abundance of turtles present at this time. Loggerhead, Hawksbill, and Green turtles sometimes are seen floating in the sea on the trip between Key West and the Dry Tortugas National Park.
Earlier this year staff at Dry Tortugas National Park contacted the Save-A-Turtle organization asking for help in updating the Park Visitor Center with information on the sea turtles that the park is named for. The Save-A-Turtle organization generously offered tehir support and expertise for this project that would help educate park visitors about the nesting process in the park and about sea turtles in general. Randall Bennett of Tall Grass Museum Services worked with Save-A-Turtle and Park staff to create a beautiful display. Local sand and beach wrack material was collected and used in the display that depicts a nest of loggerhead turtles hatching. A "cut-out" view on the back of the display lets visitors imagine the nest cavity below ground. Save-A-Turtle Vice-President Elaine Sweet Mason and members Kyle Mason and Jeanette Hobbs were on hand to see visitors to the Fort experiencing the interactive display. " It is Sav-A-Turtle's goal and hope that these visitors will remember what they've read and will join us on our mission to promote the welfare of sea turtles throughout the world." said Sweet.
The park encourages all visitors to stop by the visitor center at Fort Jefferson during their visit to the park.
(Pictured are Sue Schaf, Fish and Wildlife Commission, Chris Ziegler, NPS, Elaine Mason, Save A Turtle Organization, Randall Bennett, Artist, and Jeanette Hobbs, also Safe A Turtle)