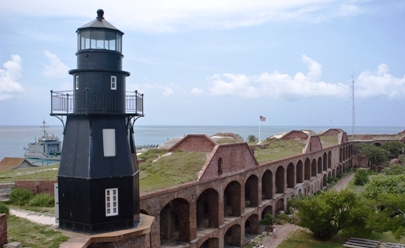 News Release Date:
October 17, 2013
Contact: General Park Information, 305-242-7700
Contact: Media Contact Linda Friar, 305-242-7714
Dry Tortugas National Park re-opens to visitors today.
Dry Tortugas National Park has been closed since October 1 due to the lapse in Congressional appropriations.
Visitors can access all visitor facilities at Dry Tortugas National Park, including the park's Visitor Center and campground at Garden Key, islands generally open to the public, and recreational waters.  The authorized seaplane service, ongoing turtle nest monitoring, ongoing natural and cultural resource conservation planning, and interpretive services are all operating as usual today. The commercial ferry service will not begin until Monday October 21; however, their offices are open for reservations and information. (800-322-0013). 


"We are very happy to be back at work serving the American people and welcoming visitors to Dry Tortugas National Park," said Park Manager Glenn Simpson.   "Weather in the Florida Keys this time of year is wonderful! I'd encourage all to come visit the Dry Tortugas and enjoy all this park has to offer."
Dry Tortugas National Park staff is proud to be members of the Keys community. Our visitors spend about $7 million a year in the communities around Dry Tortugas National Park. The economic impact of closing this park for 16 days has been extremely tough on our gateway communities, local businesses, neighbors, and park partners. We look forward to welcoming visitors to the park and doing everything we can to enhance tourism in south Florida to mitigate the adverse economic impact of the government shutdown.


For updates on the status of park facilities and operations please check our website atnps.gov/drto.