Date:
July 21, 2009
Contact:
Linda Friar
, 305-242-7714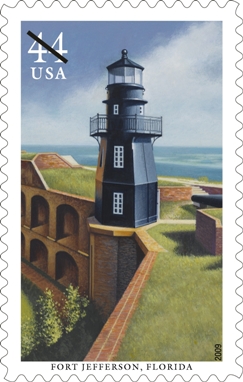 GarIn Brief:
Who:  Dry Tortugas National Park
What: Superintendent to speak at Dedication of Stamp Commemorating the Dry Tortugas Garden Key Harbor Light at Fort Jefferson
Where: Key West Post Office, 400 Whitehead Street, Key West
When: 11 a.m. Thursday July 23, 2009

Key West, FL --- At 11 AM on Thursday, July 23, 2009, Postmaster Jane Evans will welcome the community to the Fort Jefferson Lighthouse First-Day-Of-Sale stamp dedication ceremony at the Key West Post Office at 400 Whitehead Street.
The Fort Jefferson Lighthouse, also known as the Garden Key Harbor Light, is in Dry Tortugas National Park, approximately 70 miles west of Key West. Dan B. Kimball, Superintendent, Dry Tortugas and Everglades National Parks, will give remarks on the preservation of Fort Jefferson, including the light, on Garden Key. In addition, Glenn D. Simpson, Program Manager for the NPS Southeast Region for Division of Historic Preservation, and Kelly Clark, Dry Tortugas Exhibit Specialist, who have been working on the Garden Key Lighthouse preservation will be on hand to answer any questions.
Postmaster Evans will recognize local artist Anne Shaver whose pen and ink drawing of a Sooty Tern, a familiar seabird in the Florida Keys, is featured on a pictorial postmark. The Postal Service offers pictorial postmarks to commemorate local community events; the Sooty Tern pictorial postmark will be available at the stamp dedication ceremony and by mail.
 
The Fort Jefferson Lighthouse joins four other lighthouses --- Matagorda Island, near Port O'Connor, TX; Sabine Pass, near Sabine Pass, LA; Biloxi, in Biloxi, MS; and Sand Island, near the entrance to Mobile Bay in Mobile, AL --- in the latest issuance of the US Postal Service's popular lighthouse stamp series.  
The Harbor Light on Garden Key in Dry Tortugas National Park was constructed in 1876 by the US Army Corps of Engineers. This light replaced the original Tortugas Harbor Light that was constructed in 1825 and was located within the parade ground of historic Fort Jefferson.  The existing light is a hexagonal, wrought iron tower. The light is no longer an active Aid to Navigation but is still a contributing structure to the overall historic significance of Fort Jefferson and Dry Tortugas National Park.
After damage from the 2005 hurricanes, the National Park Service took this opportunity to replace non-historic windows with historically accurate shutters and doors.  A historic preservation crew from Bandelier National Monument is currently finishing the installation of these shutters and doors in cooperation with the Cultural Resources staff of Dry Tortugas National Park. Everyone is invited to visit the park to see the results of this work and the new "old" appearance of the Garden Key Lighthouse.
-NPS-