Death Valley Summer Visit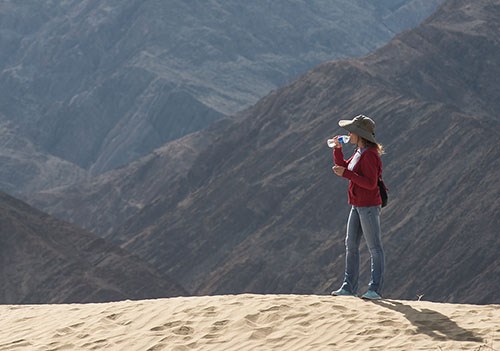 Death Valley is the hottest place on Earth. In the summer months (May-September) temperatures average over 100°F (38°C), and often exceed 120°F (49°C).
Death Valley National Park, however, is perfectly safe to visit in the summer with some caution.
Drink and carry plenty of water: Carry with you and drink at least one gallon (4 liters) of water per day to replace loss from sweat, and drink more if you are active. Fluid and electrolyte levels must be balanced, so have salty foods or sports drinks too.
Travel prepared to survive: Stay on paved roads in summer. If your car breaks down, stay with it until help comes. Carry extra drinking water in your car in case of emergency.
Watch for signs of trouble: If you feel dizzy, nauseous, or get a headache, get out of the sun immediately and drink water or sports drinks. Dampen clothing to lower body temperature. Be alert for symptoms in others. Heat illness can be severe and even deadly.

Most visitors in the summer choose mostly to tour by car. The main points of interest remain open, but it is highly recommended to stay on paved roads and close to your vehicle.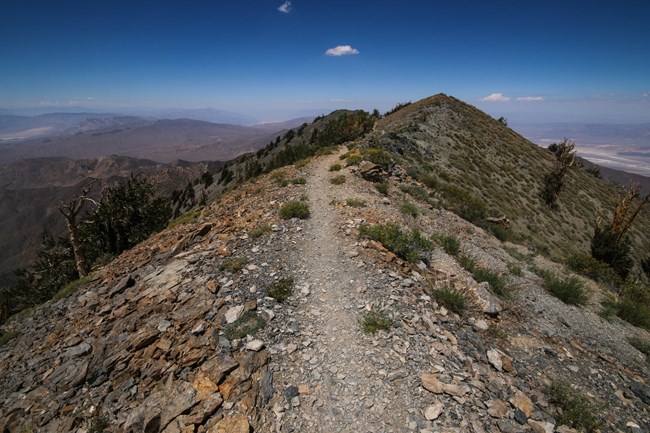 Hiking in the summer
Summer temperatures make hiking in the desert dangerous. Therefore, we do not recommend hiking in the lower elevations in the summer. If you do decide to hike at lower elevations, start and end your hikes as early as possible, but definitely before 10 am.


There are many places to hike in Death Valley in the higher elevations. Here are a few suggested hotter weather hikes:



Dante's Ridge (shoulder season)
Length: ½ mile (0.8km) to first summit, 4 miles (6.4km) one-way to Mt. Perry.
Difficulty: moderate to first summit;moderately strenuous to Mt. Perry due to much up and down along trailless route.
Location: Dantes View parking area.
Description: Follow ridge north of Dantes View for spectacular vistas and a cool place to escape summer heat. No trail for last 3.5 miles. Not maintained.
Wildrose Peak Trail
Length: 4.2 miles (6.8km), one-way.
Difficulty: moderately strenuous.
Location: Charcoal Kilns parking area on upper Wildrose Canyon Road.
Description: A good high peak to climb (9,064 ft./2,763 m). Trail begins at north end of kilns with an elevation gain of 2,200 ft. (671m) Spectacular views beyond 2 mile (3.2km) point. Steep grade for last mile (1.6km).

Telescope Peak Trail
Length: 7 miles (11km), one-way.
Difficulty: strenuous.
Location: Mahogany Flat Campground at end of upper Wildrose Canyon Road. Rough, steep road after Charcoal Kilns that may require 4x4 or high clearance.
Description: Trail to highest peak in the park (11,049 ft./3,368m) with a 3,000 ft. (914m) elevation gain. Trail is usually snow-free by June.
Last updated: August 29, 2022