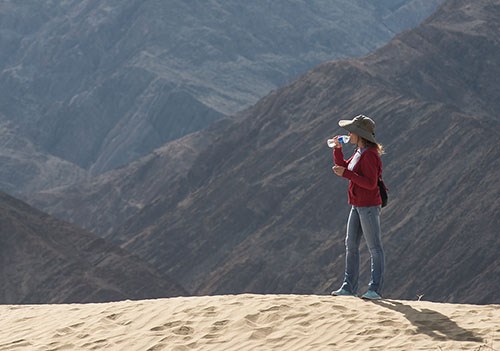 Death Valley is the hottest place on Earth. In the summer months (May-September) temperatures average over 100°F (38°C), and often exceed 120°F (49°C).
Death Valley National Park, however, is perfectly safe to visit in the summer with some caution.
Drink and carry plenty of water: Carry with you and drink at least one gallon (4 liters) of water per day to replace loss from sweat, and drink more if you are active. Fluid and electroyte levels must be balanced, so have salty foods or sports drinks too.
Travel prepared to survive: Stay on paved roads in summer. If your car breaks down, stay with it until help comes. Carry extra drinking water in your car in case of emergency.
Watch for signs of trouble: If you feel dizzy, nauseous, or get a headache, get out of the sun immediately and drink water or sports drinks. Dampen clothing to lower body temperature. Be alert for symptoms in others. Heat illness can be severe and even deadly.


Most visitors in the summer choose mostly to tour by car. The main points remain open, but it is highly recommended to stay on paved roads and close to your vehicle.