Tourism - The Entrepreneurs
As mining opportunities diminished, there were those, particularly the owners of the Pacific Coast Borax Company, who saw the opportunity to transform some of the old mining camps and facilities into hotels and other visitor services. The increase in automobile ownership eased the journey into the valley from the growing population center of Los Angeles. Roads were built along the mining and emigrant trails, and the first tourist accommodations were established to welcome hot and weary travelers.
Pacific Coast Borax Company, Death Valley Junction - ca 1908
A 1908 Cadillac Model S automobile, one of the first to enter Death Valley, is stopped in front of the Pacific Coast Borax Company Offices, now the Amargosa Hotel and Amargosa Opera House, at Death Valley Junction.

The Pacific Coast Borax Company lobbied to designate Death Valley as a national park. In 1926, the company invited Stephen Mather, Director of the National Park Service and his aid, Horace Albright to visit. Mather and his father had previously worked for Pacific Coast Borax so to avoid accusations of favoritism, the company began a grass-roots campaign for protection of the valley, including the radio program "Death Valley Days".

Mather died in 1930 and Albright became the NPS Director and advocated for the creation of a national park. In February 1933, President Hoover proclaimed Death Valley as a National Monument and 61 years later, Congress designated Death Valley National Park.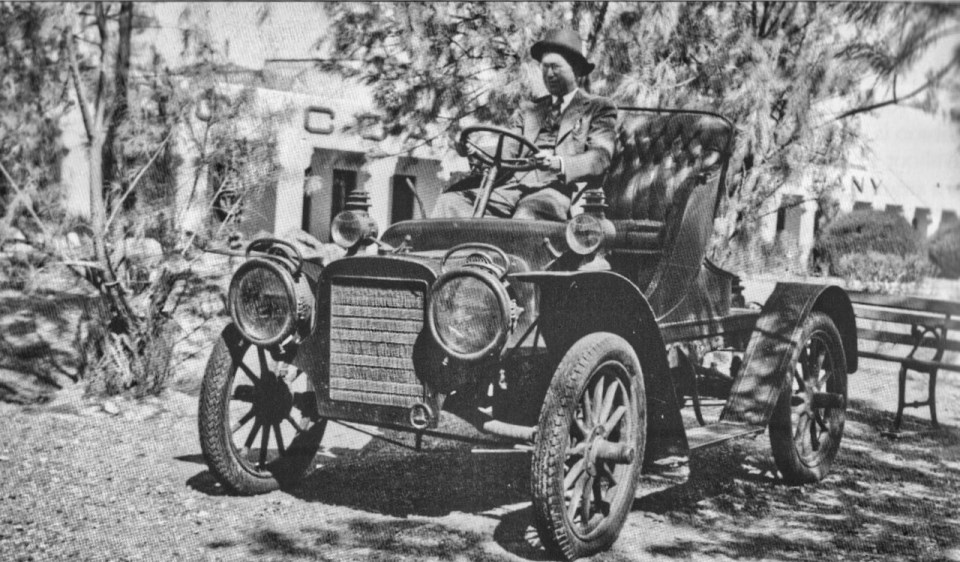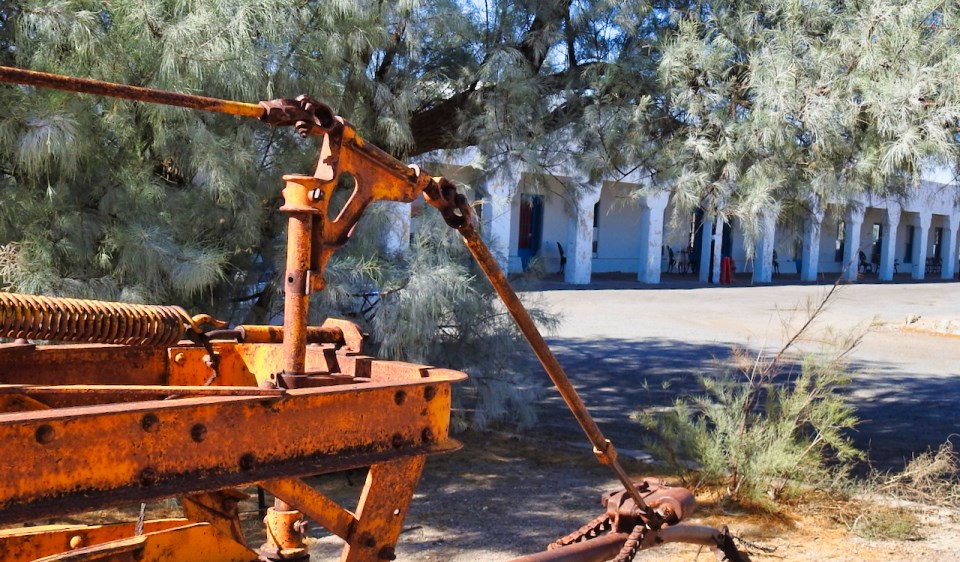 Left image
Credit: Images of America: Death Valley by Robert Palazzo 2008 Arcadia Publishing
Right image
Credit: NPS/Ted Barone
Camp at Fairbanks Spring near Ash Meadows - 1906
Mining camps in the early 1900s required freighting services to move mined minerals to the markets and trains in Las Vegas, as well as to get supplies needed in the camps. In 1905, Ralph and Celeste Fairbanks moved to this location in Ash Meadows about halfway between Las Vegas and Rhyolite to start a freighting business. They also opened a stage station to provide beds, food, whiskey, and poker to travelers.

The Tonopah and Tidewater Railroad opened in 1907 and the Fairbanks couldn't compete so they sold their property at Fairbanks Spring and moved to Greenwater, located high up in the Furnace Creek Wash.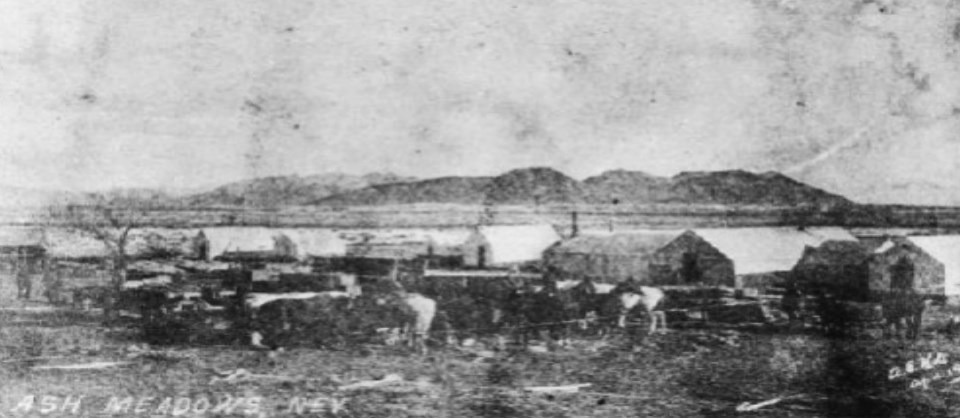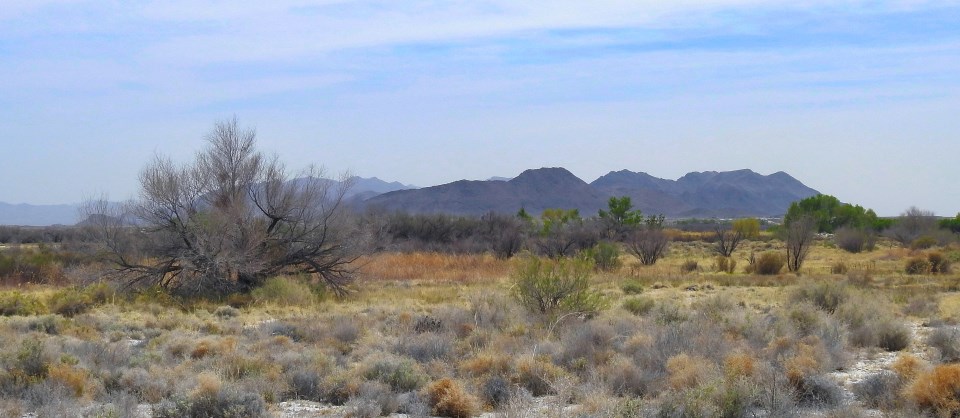 Left image
Credit: Nye County History Celesta Lowe Collection
Right image
Credit: NPS/Ted Barone
Travertine Springs Swimming Pool - 1925
The swimming pool in this photograph was built by Pacific Coast Borax Company for their miners, employees, and families. It was fed by travertine springs and provided relief, particularly for the miners working at the nearby Ryan mines.The pool was built into the Furnace Creek Wash. Remnants of ancient alluvial fan deposits are visible in the background.

Although the pool is long gone, Travertine Springs remains one of the main source of freshwater for the Furnace Creek area, producing as much as 990 gallons per minute.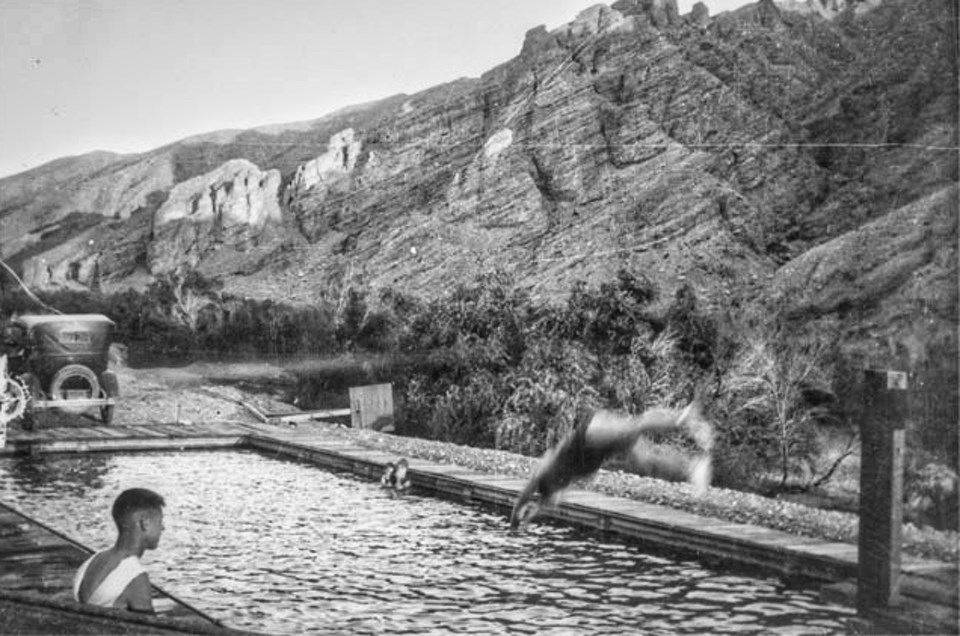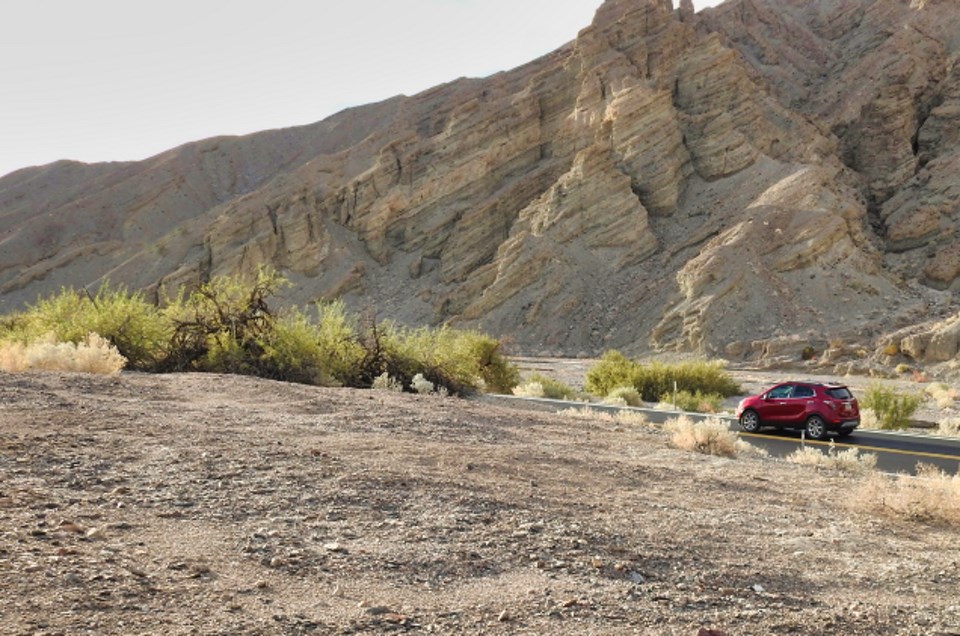 Left image
Credit: Photographer: Herbert Summer; Autry Museum of the American West - TheAutrey.org
Right image
Credit: NPS/Ted Barone
Eichbaum Toll Road in Darwin Wash - ca. 1926
Herman William "Bob" Eichbaum was an electrical engineer who worked at Rhyolite, helping build an electrical plant. Later, Eichbaum moved to Venice Beach, CA, where he built up a profitable sightseeing business on Catalina Island.

As Eichbaum learned more about the tourist trade, he came to believe that Death Valley could become an attractive winter resort and he envisioned building a grand hotel at Hells Gate overlooking the valley to the east of Mesquite Flat Sand Dunes.

Eichbaum wanted to bring in visitors from Los Angeles, but at the time, the only way to get into the valley was on old horse or wagon trails. Realizing this was insufficient, he built a toll road over two mountain passes from the west into Death Valley. Although he originally indended to build the road beyond Mesquite Flat Sand Dunes, the shifting sand proved to be problematic, and he ended the road west of the dunes. The road was completed in 1926 and it is cited as a factor in changing Death Valley's economic base from mining to tourism.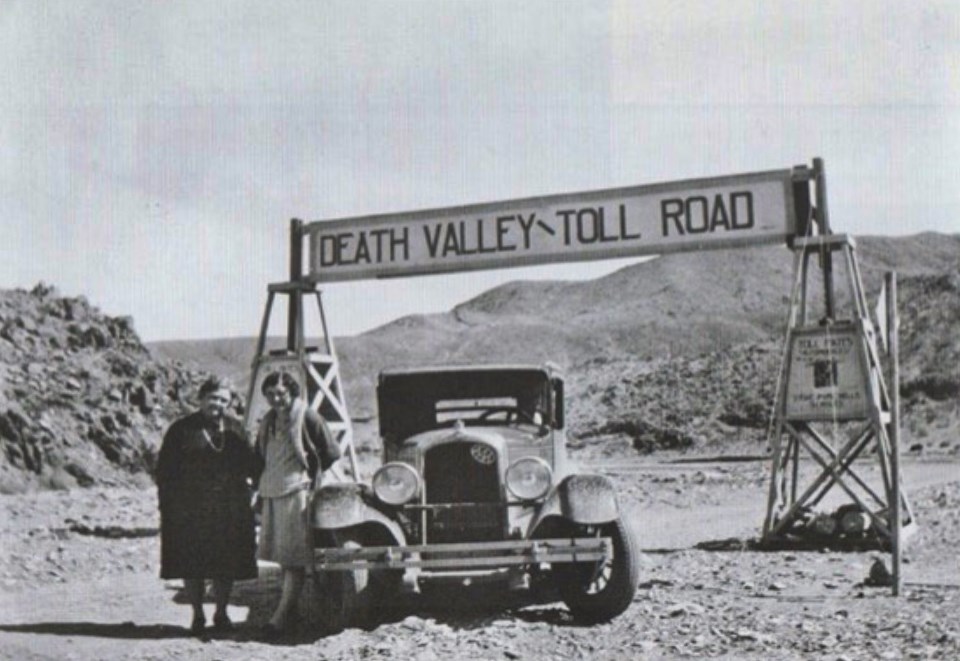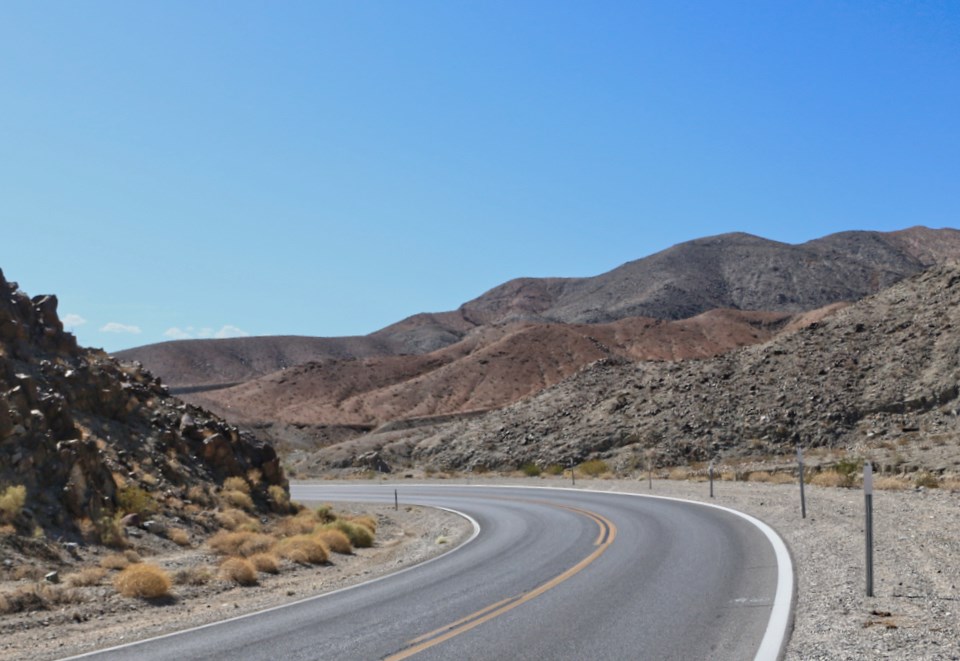 Left image
Credit: Photographer: Burton Frasher; Courtesy HJG Frashers Fotos Collection
Right image
Credit: NPS/K. McCraren
Bungalette City/Stovepipe Wells - 1926
The original Stovepipe Road House was built in 1907 near a well that was marked by a piece of stovepipe. The well and Road House provided water and accommodations for travelers between Skidoo and Rhyolite in the early 1900s.

Bob Eichbaum, who stands at the far right of this photo, opened a new hotel to accommodate tourists at a location about five miles west of the original location, away from the most intense blowing sand. Eichbaum's vision for a grand resort at Hells Gate was scuttled when the road construction budget for his toll road came in much higher than expected. When a truck loaded with lumber and building materials got stuck on the sandy road west of the sand dunes, Eichbaum decided to build his hotel right where the truck was stuck instead instead of pushing on to Hells Gate.

Eichbaum's hotel consisted of 20 bungalows with 50 rooms, a restaurant, general store, filling station, swimming pool, tennis court, golf course, and airfield. He built a beacon light, powered by a generator, to guide visitors into the hotel during desert nights.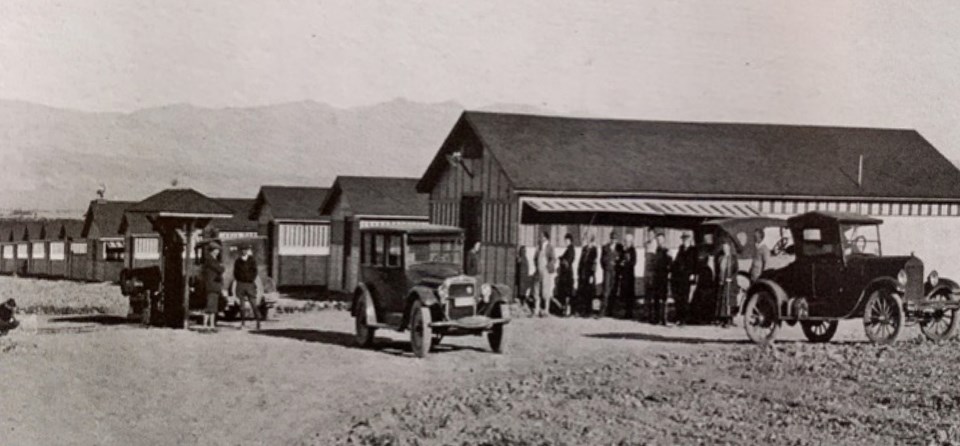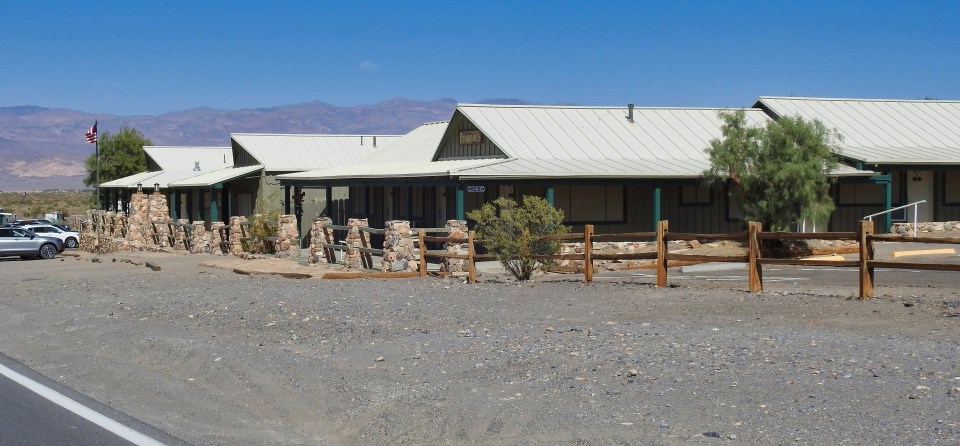 Left image
Credit: Images of America: Death Valley by Robert Palazzo 2008 Arcadia Publishing
Right image
Credit: NPS/Ted Barone
Furnace Creek Inn Swimming Pool - 1935
The Furnace Creek Inn, built by the Pacific Coast Borax Company, opened on February 1, 1927 with 12 guest rooms and cost $10 per night including meals. In 1929, the water from Travertine Springs was brought in to supply the new swimming pool. The flow-through spring-fed pool (always 87 degrees) overlooks Furnace Creek Wash to the west.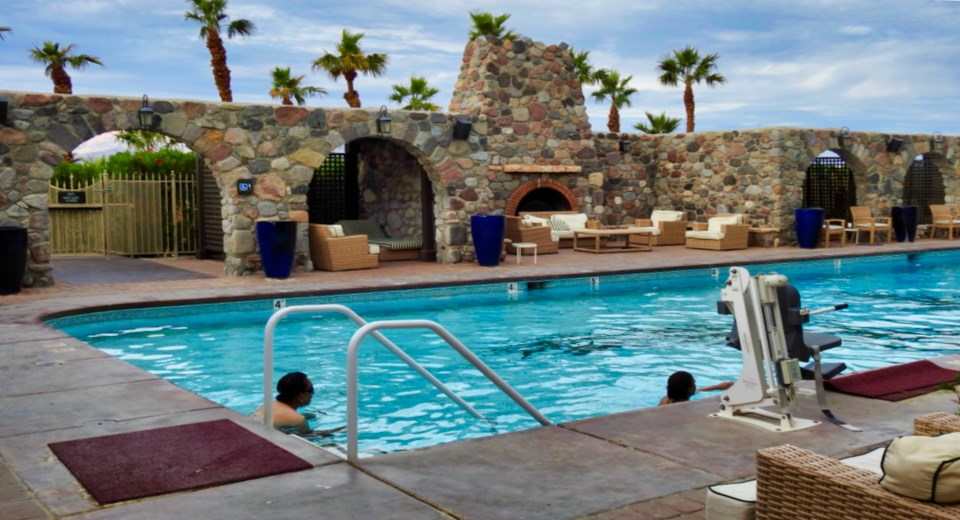 Left image
Credit: Images of America: Death Valley by Robert Palazzo 2008 Arcadia Publishing
Right image
Credit: NPS/Ted Barone
Golfers at Furnace Creek Ranch - 1939
Guests of the Furnace Creek Ranch in Death Valley golf on the all-grass course. Built in 1927, this is the lowest golf course in the world, at 214 feet below sea level. It is often advertised as "the lowest round of golf you'll every play!"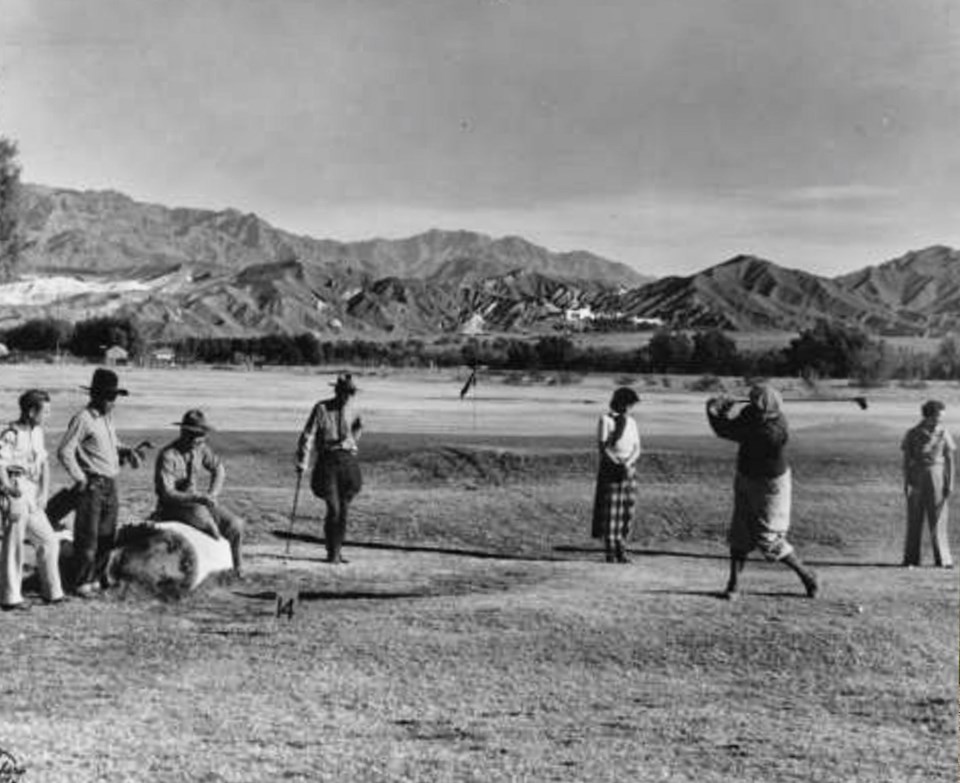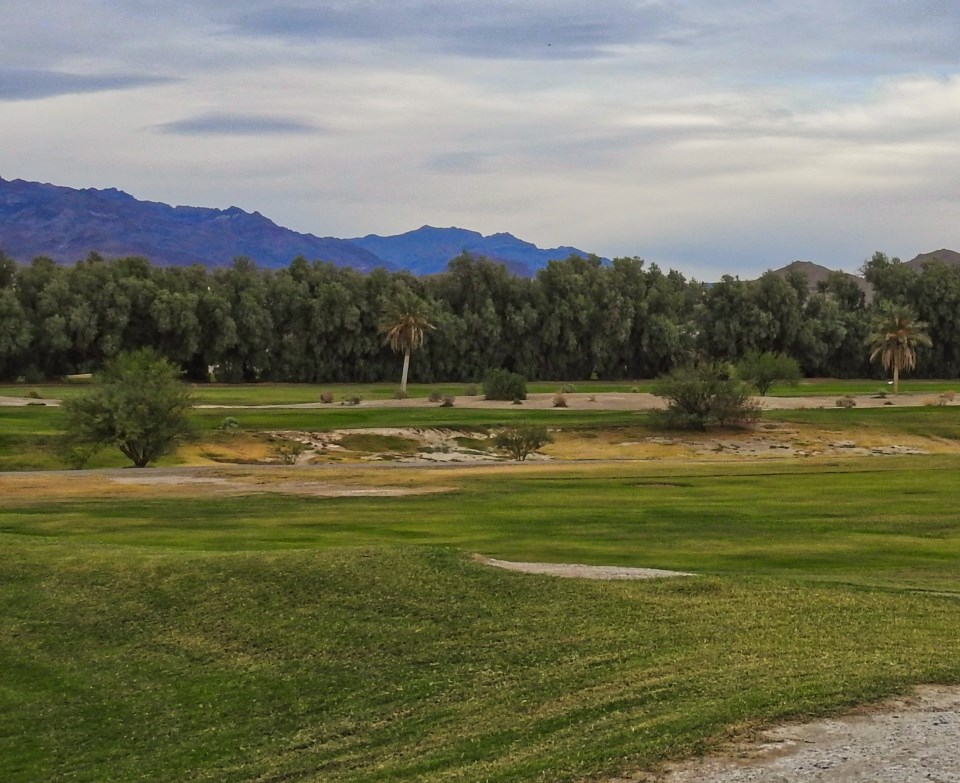 Left image
Credit: Works Progress Administration Collection
Right image
Credit: NPS/Ted Barone
Last updated: August 1, 2022