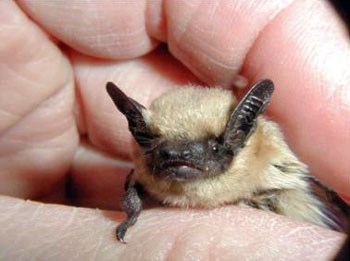 BATS
fringed myotis
Myotis thysanodes
Roosts in caves, mines, and buildings;juniper forests and desert shrub.

California myotis
Myotis californicus
Roosts in caves, mine tunnels and buildings.
small-footed myotis
Myotis subulatus
Roosts in caves, mine tunnels and rock crevices.
silver-haired bat
Lasionycteris noctivagans
Found around water in forested areas.
western pipistrelle
Pipistrellus hesperus
Roosts in rock crevices and caves near watercourses.
western big-eared bat
Plecotus townsendii
Found in abandoned mine tunnels and shafts from 3000 to 6000 feet.
hoary bat
Lasiurus cinereus
Roosts in trees; found around well watered areas.
pallid bat
Antrozous pallidus
Roosts in crevices and caves.
Brazilian free-tailed bat
Tadarida brasiliensis
Roosts in caves, crevices, and buildings.