Lightscape / Night Sky

International Dark Sky Park
Death Valley National Park has some of the darkest night skies in the United States and was the third International Dark Sky Park in the U.S. National Park System certified by the International Dark-Sky Association.
To qualify for the dark sky designation, the park improved exterior lighting at facilities in the Furnace Creek and Stovepipe Wells areas, reducing energy consumption, sky glow, and glare. The designation requires the park to maintain its efforts to protect night sky resources and provide visitor education on dark skies.
Light Pollution
As urban areas grow and the use of artificial outdoor lighting increases, night skies brighten and stars fade from view. Most people can't see the Milky Way from where they live and they may never see it in their lifetime! Luckily, places such as Death Valley National Park have worked hard to protect darkness for all to enjoy.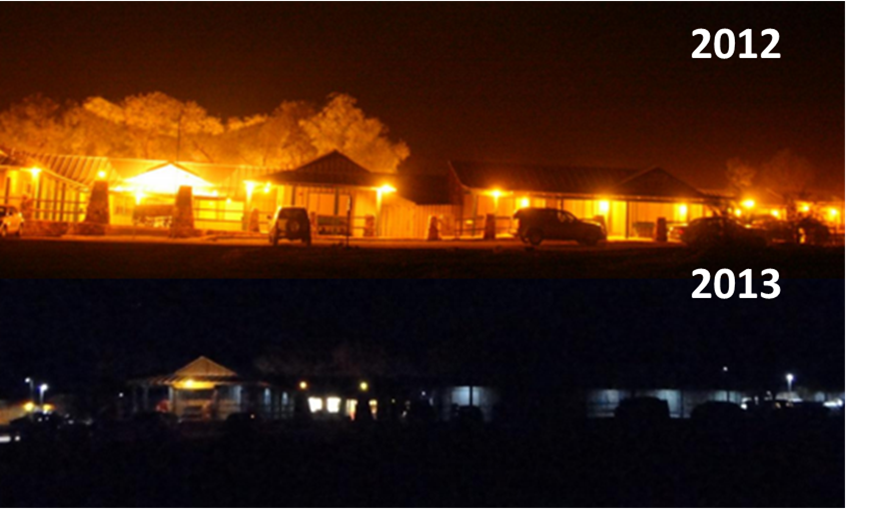 Protecting Darkness in Death Valley
Death Valley National Park's remote location has allowed it to continue to have dark night skies, but there are multiple developed areas within the park which must be lit to ensure that people can safely navigate around facilities. In the past, light in these areas was used improperly and created light pollution, decreasing visitor enjoyment of the night sky. Today, the park follows strict lighting guidelines to minimize the impacts of artificial lighting.

Park light fixtures direct light away from the sky and only toward areas requiring illumination, such as walkways and parking lots. This is accomplished in numerous ways, including using downward pointing shields around lamps, placing lights on outside walls beneath canopies, and simply shutting off outdoor lights when they are not in use. Implementation of the park's lighting guidelines have improved the natural character of the night for the benefit of both wildlife and park visitors while at the same time conserving energy and continuing to provide light where it is truly needed.
More and more parks are rethinking their lighting and are making efforts to protect night sky viewing opportunites for the public. Over 30 U.S. National Parks and Monuments have earned the International Dark Sky Park designation and others are working to join them. Find a Dark Sky location near you.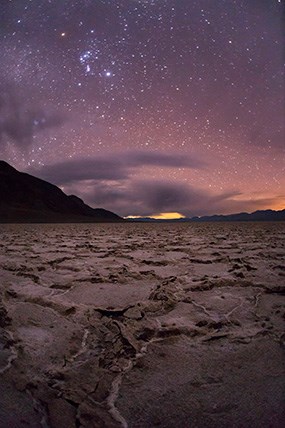 "At Death Valley the sky literally begins at your feet," said Tyler Nordgren, Associate Professor of Physics at the University of Redlands (Calif.) and International Dark-Sky Association board member. "When my students and I look up at night from our southern California campus, we can usually count 12 stars in the sky. However, less than a five hour drive from Los Angeles there's a place where anyone can look up and see the universe the way everyone could 100 years ago."

Although it may be difficult to see the night sky where you live, the encouraging news about light pollution is that it is reversible and you can help! Consider taking these simple steps at your own home to help bring dark skies like those in Death Valley back to your community:
Install lighting only when and where it's needed

Use energy saving features such as timers and motion sensors on outdoor lights

Shield your lighting so it only shines downward

Share with friends, neighbors, and coworkers about how they can help
Explore Darkness in Death Valley National Park
Half the park is after dark, so be sure to take advantage of Death Valley's dark skies and stay after sunset. Experiencing night in the park can be as simple as finding a quiet place to look up and enjoy the stars.


Last updated: April 11, 2022