Fish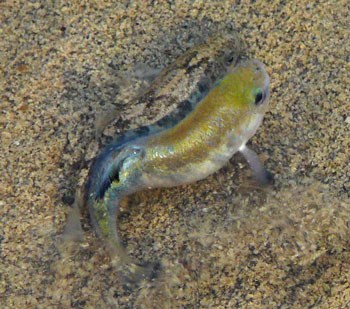 amargosa pupfish
Cyprinodon nevadensis amargosa
Found in the Amargosa River northwest of Saratoga Springs.
saratoga pupfish
Cyprinodon nevadensis nevadensis
Found at Saratoga Springs at the south end of Death Valley.
Devils Hole pupfish
Cyprinodon diabolis
(endangered species)
Found in Devils Hole, 37 miles east of Furnace Creek, in western Nevada.
Salt Creek pupfish
Cyprinodon salinus salinus
Found in Salt Creek in the central part of Death Valley.
Cottonball Marsh pupfish
Cyprinodon salinus milleri
(threatened species)
Found in Cottonball Marsh on the west side of central Death Valley.
western mosquitofish
Gambusia affinis
(invasive species)
Introduced into Furnace Creek irrigation ditches and ponds.


Last updated: November 14, 2019