Keane Wonder Mine
Why is the Keane Wonder Mine Area TEMPORARILY CLOSED?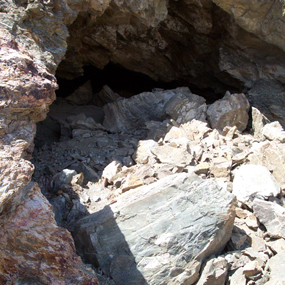 Unstable Ground
The Keane Wonder Mine was one of the most successful gold mines in Death Valley. Miners were following a rich vein of ore that was deposited in fractures in the metamorphic rock. Tunnels were dug, side tunnels were added, always removing as much ore as possible. Eventually the mine became a series of chambers supported by pillars. So much material was removed that the entire mountain slope above became unstable and started to collapse. Besides the obvious danger of entering a crumbling mine, just being on the surface above or near the mine has become a safety hazard.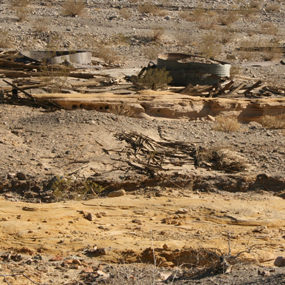 Toxic Waste
To extract the gold from the ore, cyanide and other toxic chemicals were used at the mill site. Not far from the parking area are the remains of tanks used in the cyanide process and fine tailings that remained after processing. Preliminary testing has shown elevated levels of lead and mercury in these tailings. Erosion is constantly exposing this material and wind blows the dust around. This would not be something you would want to breathe!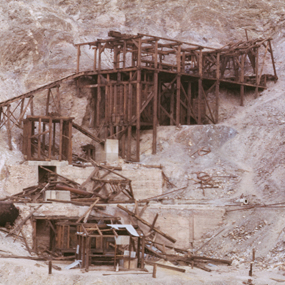 Collapsing Structures
The historic structures of Keane Wonder Mill and tramway are suffering from rot, rust, and decay. These structures are in danger of collapse and need to be stabilized.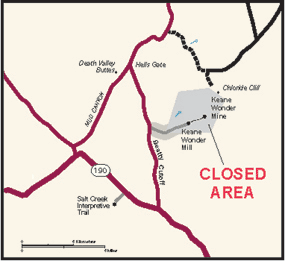 Closed Area
Until the site can be made safer—while also preserving the historic features of the site and protecting those areas used by wildlife—the National Park Service has decided to close the Keane Wonder Mine and surrounding area to public access. The closed area is from the junction of Keane Wonder Road and Beatty Cut-off Road east to Chloride City, and approximately one mile both north and south of Keane Wonder Mine, including Keane Wonder Mill, Cyty Mill, Big Bell and King Midas Mines. For questions or a map of the closed area, ask at the Furnace Creek Visitor Center.
Last updated: February 28, 2015