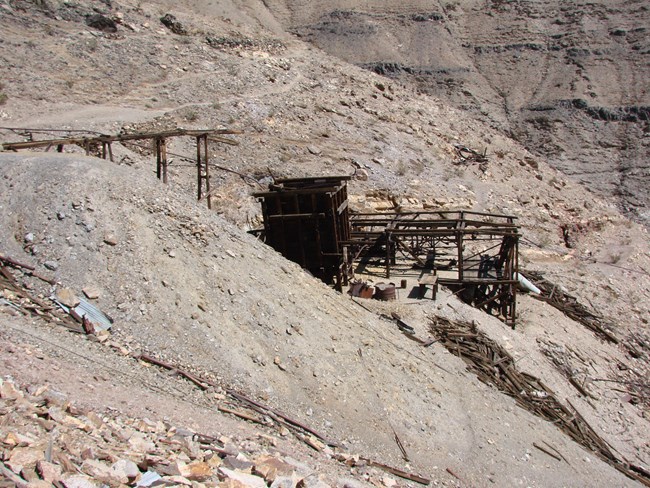 Keane Wonder Mine Reopening!

Step back in time and experience one of the most unique historical mining sites in Death Valley! In November 2017, the Keane Wonder Mine will be reopening after its closure in 2008. Operating in the early 1900s, the Keane Wonder Mine was one of the most successful gold mines in Death Valley. It now remains as one of the best examples of a historical gold mining operation in the national park. What is truly unique about this site is the well-preserved aerial tramway that still has the cables attached.

Traveling one thousand feet down in one mile, the tramway cars began carrying the valuable gold-containing ore from the mine to the mill in 1907. By 1912, the mine was mostly tapped out and major operations ended. In that time, almost one million dollars in gold was hauled down those cables. Visit the site today and take a look at how this engineering feat was able to move over 70 tons of ore per day down the steep Funeral Mountains.
Reasons for the Closure
Prior to the closure, Keane Wonder Mine had been the most popular and most heavily visited mine site in the park. It was closed in 2008 due to:
unsafe mine openings along popular trails

concerns about the stability of the tramway due to tension from the cables

concern about the contents of the mill tailings
Restoration for Reopening



Mine Openings
Over 50 mine openings have been covered. If you happen upon an open mine, stay out for safety reasons.

Soil & Tailings
Multiple rounds of soil sampling were done over a two year period to determine the contents of the tailings and the extent of the tailings spread.

Unstable Structures
Stabilization work was done on several aerial tramway towers, and the upper and lower tram terminals. This work included replacing key structural pieces that
were rotting, cracked , or otherwise failing, while preserving the integrity of the original designs as much as possible. When you visit, please do not climb on the buildings, equipment, or tramway. Though stabilized, they are not safe to climb on.
Visiting Today
The Keane Wonder Mill and Tramway Area:
Located near the parking area, this site is very accessible. Take a stroll through the area where the mine camp and the mill were located. A short walk up the trail at the end of the road will give you views of the lower tram terminal and the first few tram towers.
The Mining Road and Aerial Tramway:
Walk along the mining road for views of the aerial tramway. The steep trail will take you up 1,500 feet in 1.4 miles to the upper tramway terminal and just beyond it, the Keane Wonder Mine.
How to get there:
Drive the Beatty Cutoff 5.7 miles north from Highway 190 to the marked
road for Keane Wonder Mine. Drive 2.8 miles to the parking area.