Ranger Led Kayak Tours at De Soto National Memorial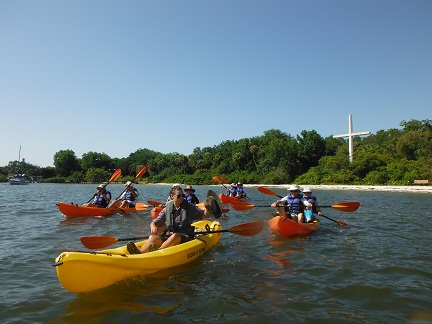 News Release Date:
May 3, 2013
Contact: Dan Stephens, 941-792-0458
Contact: Ben Sims, 941-792-0458
De Soto National Memorial Offering Ranger led Kayak Tours.
On Saturdays and Sundays starting April 27th through October 20th, De Soto National Memorial will be offering free ranger led kayak tours. Explore the waters that Native American Indians and Spanish Conquistadores traveled hundreds of years ago.
First time or experienced —First time kayakers, our trained rangers will ensure your first time will be safe and enjoyable. For kayakers with more experience, our tour will offer a different way for you to view the natural resources and vibrant history of the Manatee River.
No Equipment, No Problem — If you do not own your own equipment we supply Kayak, paddle, personal flotation device, and other safety equipment. You are welcome to bring your own equipment, but all kayaks and safety equipment must pass a federal safety standard inspection.
A unique look at Florida's costal resources — Paddle through time as your park ranger guide will explore the costal estuaries. Learn how Native American Indians and Spanish Conquistadores used water life ways for transportation and food. Learn about many of the unique plants and animals that make Florida's waterways their home. Find out how you can help preserve and protect these fragile ecosystems for future generations.
Tour Information — Kayak tours will be held on Saturday and Sundays from April 27th through October 20th at 9:30a.m. The kayak tours and all equipment rentals are free. RSVP is mandatory for space is limited please call 941-792-0458 ext 105. All children between the ages of 8-17 must be accompanied by an adult. Due to Lifejacket restrictions children less than 50lbs. are not allowed on tours. Free paddle is only allowed under supervision of a park ranger, all participants must stay with the tour. All gear will be checked and a safety briefing will be held before the tour begins. For experienced paddlers ask about our once a month advanced tour.
All events and activities are free at De Soto National Memorial. Event hours are 9:30 to 11:00 a.m. and 1:30 to 3:00 p.m. All activities are subject to change due to weather. To RSVP call 941-792-0458.
DeSoto National Memorial is located at 8300 De Soto Memorial Hwy, Bradenton 34209. On I-75 take exit 220 SR-64 Manatee Ave. Go west to 75th street. Travel north, the park is located at the terminus of 75th street. De Soto National Memorial is open seven days a week. The Visitor Center is open from till park grounds are open from sunrise to sunset.For more information go to: www.nps.gov/deso
Last updated: April 14, 2015