De Soto to Land on Junior Ranger Day Saturday, April 26th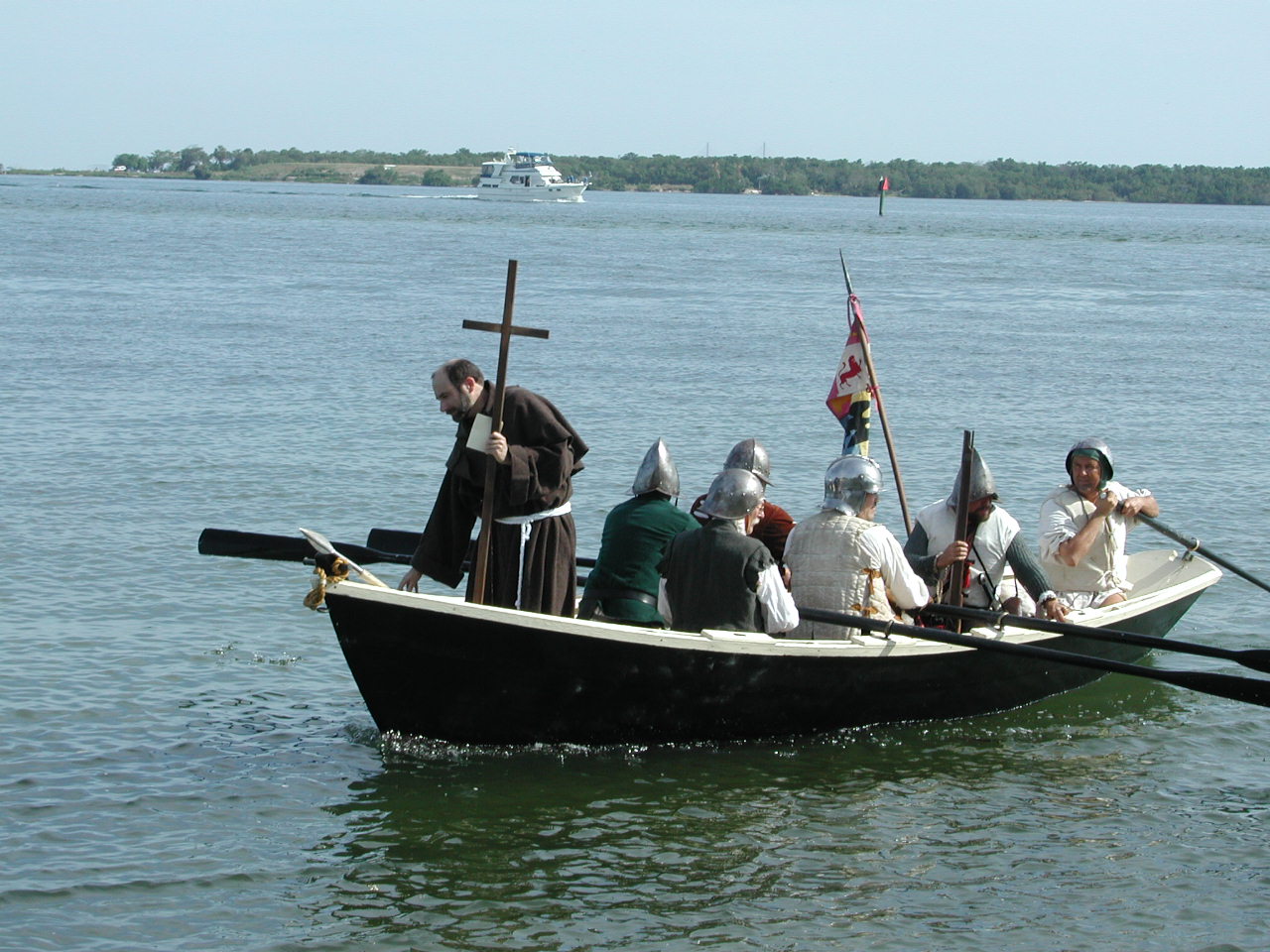 News Release Date:
April 23, 2008
De Soto is landing on National Junior Ranger Day, Saturday April 26, 2008
Please join De Soto National Memorial staff and volunteers as we step back in time for a day of activities as we commemorate the 469th anniversary of the beginning of the Hernando de Soto expedition. Immerse yourself in the event as you witness De Soto land on the shores of the bay and claim "la Florida" for Spain. Mingle with historians in period clothing, and watch weapons demonstration including the exciting firing of the powerful Arquebus. Learn about the horses on the expedition and their Florida heritage from members of the Florida Cracker Horse Association.  Several horses will be in the park throughout the day and friendly to pet.
De Soto's Entrada began some 469 years ago when Spanish conquistadors, horses, and war dogs splashed ashore in the lower Tampa Bay area on May 30, 1539. After staying in Tampa bay for several weeks Hernando de Soto and his Conquistadors set off on a quest for gold that would last four years and take them over 4,000 miles through nine States.  
During the day De Soto National Memorial will be celebrating National Junior Ranger Day.  All activities throughout the day are family friendly and free with activities such as Native American mask painting and Junior Ranger inductions designed specifically for the kids, who will leave the event with meaningful souvenirs from the day.
Saturday, April 26th activities will be as follows:
10:00  The Florida Native Tribal Societies -  Come listen to local historian Elizabeth Neily talk about the unique native tribal societies the were living here before De Soto landed in Tampa Bay
11:00 -12:00
The Landing - Be there as De Soto and his army begin their four year, four thousand mile odyssey!
Conquistador Walk – Join the conquistadors, on a walk through the mangroves to Camp Uzita with stops along the way to discuss life in "La Florida."
12:00  La Comida- Come learn from volunteer Sheila Benjamin about the delights of a 16th century Spanish kitchen. 
12:30 -2:30    
Native American Mask Painting – come let the kids learn about the vital role masks played in native society. Then let them paint their own native masks that they will be able to take home with them
1:00    What the Friar Saw -- Join our volunteer "Friar" Ted Bonstedt in Camp Uzita as he tells the fascinating tale of the role and adventures of Catholic priests on De Soto's expedition.
2:30     De Soto the Untold Stories- Meet for the final program in CampUzita.
16th century Weapons Demonstration - See (and hear) a matchlock musket (Arquebus) being fired along with other period weapons demonstrated in Camp Uzita.
4:00  End of Scheduled Event Activities
De Soto National Memorial is located at the end of 75th Street NW in Bradenton, Florida. Entrance to the park is free, as are all activities. Come to our visitor center were we will be showing the film Hernando de Soto in America through out the day. The Park is open from sunrise to sunset; the visitor center & parking area closes at 5:00 p.m.
Last updated: April 14, 2015