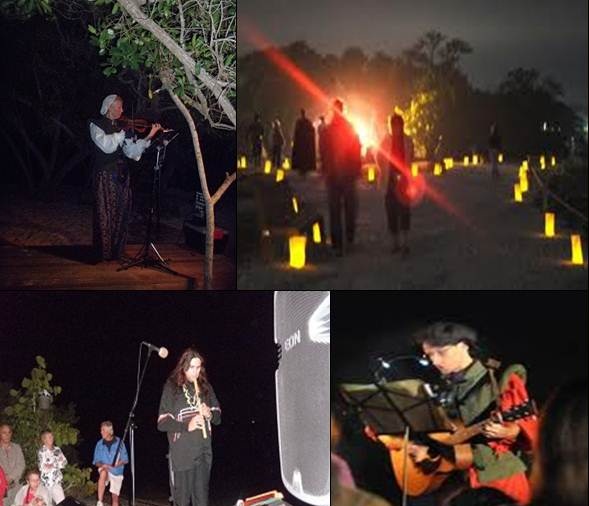 News Release Date:
November 21, 2012
Contact: Daniel Stephens, 941-792-0458
Contact: Ben Sims, 941-792-0458
De Soto National Memorial 4th Annual Winter Luminary Walk
De Soto National Memorial will light its trails with thousands of luminaries on Saturday, December 15th from 6:30-8:30 pm. The evening will be full of music and history. Free offsite parking and free shuttle service will be offered to and from the event from King Middle School. Join us in what has become a seasonal tradition for many.
Live Music - Returning, Native American musician Juan R. Leon will share the beautiful melodies of Native American flute on the shores of the Manatee River, and solo violinist Amberly Waterman of Anna Maria will play traditional European melodies.
Manatee High School Chamber Orchestra will play a wide array of seasonal favorites. State Road 64, Bluegrass and G man, Steel Drums will delight and entertain visitors throughout the night.
Luminary Walk- This year the entire trail at De Soto National Memorial will be lit up with thousands of holiday luminaries. Encounter Historical re-enactors as they tell stories of how the Spanish and Native American cultures celebrated the winter season.
Free Parking and Free Shuttle Service- Convenient free parking will be located at King Middle School on 75th St. W. Free shuttle service to and from King will be provided with complements from our partner the, Anna Maria Island Community Center. Scott Dell, Director of the Anna Maria Island Community states "The Anna Maria Island Community Center is extremely excited to partner with De Soto National Memorial's winter luminary walk. The Center's mission is to make a positive difference in our community and in the world. This is such a great community event and we are honored to have been asked to participate and bring joy to many".
Food and Refreshments Available- Food will be provided by Jose's Real Cuban Food, with a unique local menu.
All events and activities at De Soto National Memorial are free. All activities are subject to change due to weather.