Welcome to the park's new mountaineering blog, 'Denali Dispatches'.   Throughout the season we will feature varied stories of life in the Alaska Range, as well as almost-daily 'Field Reports' containing mountain statistics for Denali and Foraker, weather observations, and route conditions on Denali and throughout the Alaska Range.
Denali mountaineering rangers began preparing in earnest for the 2015 season this March, with the typical line-up of pre-season training.   As per usual, the 2015 training schedule was intensive:
·

        

High altitude medical training and EMT re-certification 

·

        

Rigging for Rescue technical training

·

        

Avalanche training

·

        

Operational Leadership / Search and Rescue scenario training 

·

        

Helicopter and short-haul training 
Squeezed in between training days, rangers have been preparing (and repairing) camp infrastructure, packing camp supplies, testing radio equipment, and generally getting poised for the season to begin.    Bring It On! 
Pictured below are the Talkeetna-based staff and contracted helicopter crew you might be hearing from this climbing season: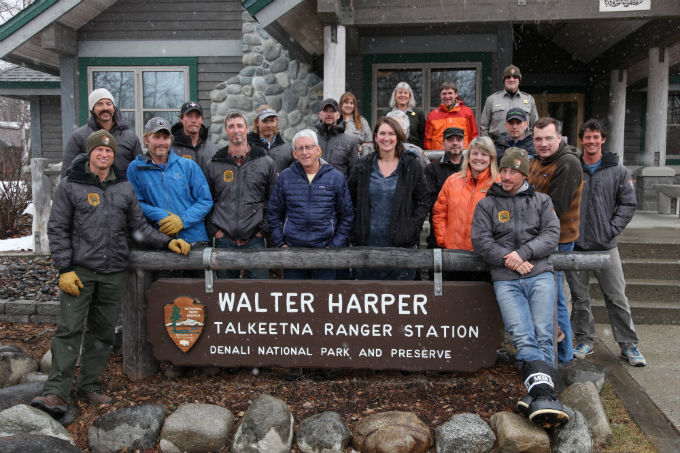 In the front row (l to r):  
Joe Reichert – Mountaineering Ranger
Chris Erickson – Mountaineering Ranger
Coley Gentzel – Lead Mountaineering Ranger
Renny Jackson – Helicopter Short-haul Trainer
Maureen Gualtieri – Mountaineering Administration and Public Information Officer
Martha Armington – Concessions Management Specialist
Mik Shain – Mountaineering Ranger
John Leonard – South District Ranger
The middle row (l to r) is:
Joey McBrayer -- Mountaineering  Ranger
Tucker Chenoweth -- Mountaineering Ranger
Mark Westman -- Mountaineering Ranger
David Weber – Mountaineering Ranger
Mari-Etta Wall – Visitor Use Assistant
Kirt Petterson -- Helicopter Mechanic
Andy Hermansky -- Helicopter Pilot
Dan Corn – Mountaineering Ranger
And in the back row:  
Missy Smothers – Concessions Management Speciaist and Visitor Use Assistant Supervisor
Pam Robinson – Visitor Use Assistant
Roger Robinson – Mountaineering Ranger
Robert Zimmer – Visitor Use Assistant
We welcome new staff members Dan Corn and Mari-Etta Wall to the program, as well as our new backup helicopter pilot Aaron Oberlander, who is missing from the class photo.