Unit 9: East Branch Toklat River
UNIT 9
EAST BRANCH UPPER TOKLAT
Quota: 6
USGS Quad Maps: Healy B6, Healy C6

Description
The wide-open gravel bar of the eastern branch of the Toklat River is surrounded by high, rugged peaks and slopes of alpine tundra that come right down to the river. There are large glaciers and extensive glacial moraines at the headwaters. The entire unit is above tree line.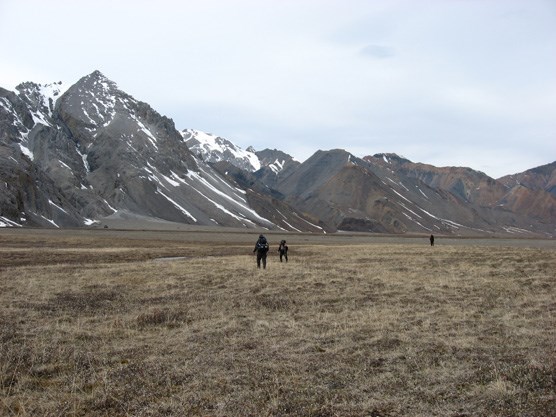 Tips and Special Features
This area is known for its classic mountain scenery and quick access to large expanses of alpine tundra deep in the Alaska Range. You are surrounded by the jagged peaks of the Alaska Range; but views of Denali are only possible from the highest ridges. This is a very popular unit so it can be difficult to get a permit. As an alternative, Unit 10 is very similar in terms of terrain, features and wildlife viewing.

Access
There are several creek bottoms and hillsides that provide ways to descend from the Park Road into the unit about two miles east of the Toklat River Bridge. The easternmost of these drainages is informally called "I Scream Gulch" - and you can ask any Denali dog musher where it got its name. Using these access points rather than starting at the bridge over the Toklat saves a few miles of walking if you are headed south. It is about a 3 hour bus ride to the Toklat River Bridge.


Common Routes and Hiking Corridors
The gravel bar of the eastern branch of the Toklat River is the main hiking corridor. At times, it is possible to hike entirely on the east side of the river for about 5 miles south of the Park Road, but be prepared to make a river crossing in case the currents have shifted the river, or if you need to avoid a bear. This branch of the Toklat is usually more braided near the base of Divide Mountain and crossing is generally possible in this area most of the summer. The river can grow to dangerous levels if there is a significant rain event or major snow melt-off.
You will need to cross the main body of the river if you want to fully explore the headwaters or to travel west into Unit 10. The eastern branch of the Toklat splits into two large glacier basins at its headwaters, 7 miles south of the Park Road. Crossing in this area of multiple channels is easier than it is farther downstream. The headwaters area is immense and several days can be spent exploring it, finding hidden waterfalls and side canyons. Both branches contain active glaciers that can be easily reached. Simply doing an out-and-back hike into the headwaters is a popular trip that avoids travel on dangerous scree and rock slopes.
It is possible to climb east out of the drainage and over into the Polychrome Glaciers area (Unit 8), but this route is a long, hard climb over steep scree and rotten rock outcrops. See the description of Unit 8 for additional information. The only reasonable exit from the headwaters area is an extremely steep pass that leads west into Unit 10. This crossing is difficult and should only be attempted if you are comfortable with travel on steep scree, snow and unstable rock. There is an easier route into Unit 10 through a low pass immediately south of Divide Mountain. This pass is approximately 3 miles from the park road, so it is a possible overnight trip.

Additional Notes and Hazards
The open terrain and single primary hiking corridor means that you are likely to see other hikers during your trip. You will also be within sight and sound of the Park Road for the first 4-5 miles of hiking. There are frequently grizzly bears traveling and hunting along the edge of the river and sometimes you must actively avoid them. The Toklat River area can have high winds coming from the south, so place your tent in a protected area if possible. Traveling on glaciers should be avoided unless hikers are properly trained and equipped. Be prepared for aircraft flying overhead on regular flight-seeing routes, particularly in clear weather.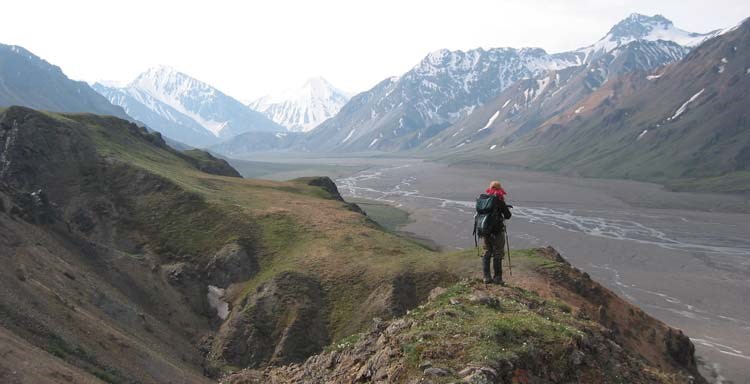 Last updated: April 14, 2015