Unit 42: Eureka Creek
UNIT 42
EUREKA CREEK
Quota: 12
USGS Quad Maps: Mt McKinley C2
Description: This unit is at the end of the Park Road and in the heart of the Kantishna mining district. The broad, tundra topped ridges of Wickersham Dome and Quigley Ridge overlook the alder covered hillsides and steep drainages of Friday Creek and Eureka Creek. These ridges provide vistas in all directions; north across the interior lowlands as well as south to the high peaks of the Alaska Range and Denali.
Tips/Special Features: Easy access to high ridges with outstanding views is provided by old mining roads and trails in the area. Signs of human use, both modern and historic, are everywhere. Several private lodges lead guided hikes in the area so expect to see larger groups of visitors, including some on mountain bikes. Water can be difficult to find on the ridge tops in late summer.
Access: It is a 6 hour bus ride out to Kantishna. The best access into the high country of this area is an old mining road that leads east from the Park Road between Eureka Creek and Friday Creek, also known as Quigley Ridge or Skyline Drive. There is also an old mining road that can be used to access the Moose Creek valley which starts at the southeast side of a bridge over Moose Creek. Other access points are the steep ridge that reaches the Park Road around Mile 89.5 and at the Kantishna Airstrip.
Routes/Hiking Corridors: This area of the park is unique in that you are encouraged to follow old mining roads and social trails to get around. By using the mining road system, it is relatively easy to travel away from the Park Road corridor and tourist lodges. The road that takes you up into the Kantishna Hills is shown on the USGS map as it climbs up Quigley Ridge and then leads on to Wickersham Dome. This road, also known as Skyline Drive, passes through some private property; so do not leave it until you are on the ridge. There are many options for ridge walks and camping once you are on top of Wickersham Dome and Quigley ridge. Most people prefer to stay up high in the alpine zone because of the views and easy hiking. If you want more of a challenge, it is possible to do loop hikes by dropping down to the south into the upper Moose Creek valley and the old mining road in that area. You can use the ridges in the area of Rainy Creek or Glen Creek to do this (Unit 41). Another option would be to drop into Caribou Creek on the north side of the ridge and meet up with lower Moose Creek below the Park Road.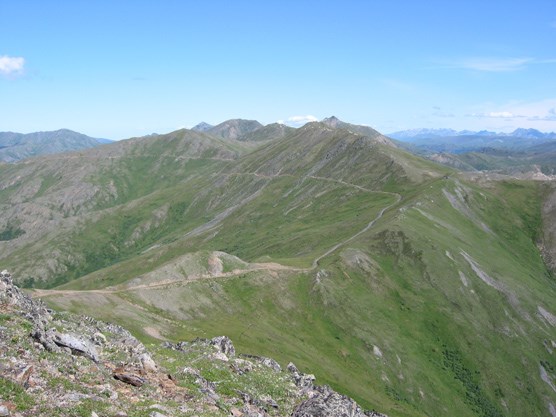 The road up Moose Creek starts at Mile 88 of the Park Road, just south of the Moose Creek Bridge. It travels east towards upper Moose Creek for eight miles before terminating at Spruce Creek (Unit 41). This road crosses Moose Creek at least 15 times. These can be difficult on foot due to the creek's fast, single channel flow. If water levels are too high for these multiple crossings, it is also possible to travel cross country along the creek bottom and adjacent ridges. This travel will be slow and through thick brush, but it is a safer alternative during high water. The road mainly stays on the north side of the creek.
Another way into this unit is at the end of the Park Road, the north end of the Kantishna Airstrip. This is a winter trail that continues north on the east side of Moose Creek. It then loops east around Wickersham Dome crossing Canyon, Flat and Glacier Creeks before joining the road along Caribou Creek. This route crosses wet, boggy and spongy areas and should only be attempted later in the summer when there are fewer mosquitoes and a possibility of drier ground.
There are heavily used trails up both Wickersham Dome and Camp Ridge from where they sit closest to the Park Road. These can be used to create shorter loop hikes in the area.
The descriptions offered here are only possibilities. When hiking in the Kantishna Hills, as with the Denali Wilderness, you are encouraged to explore and discover your own routes. For longer trips, you can easily access Unit 41 from the ridgeline and continue northeast along the Kantishna Hills.
Additional Notes and/or Hazards: Moose Creek flows in a single channel and during periods of high water, it may be difficult to cross on foot. Mosquitoes are usually dense in this part of the park in June and July.
There is a large "Day Use Only" zone in this area due to the proximity of various private lodges and private property. Make sure to mark off this no-camping zone on your map and to camp out of sight of the Park Road and all the Kantishna lodges. Despite the modern development, it is still very easy to get disoriented on the large, flat ridge tops when dense clouds and fog blanket the hills. Make sure you have a compass and map and know how to use them.
If you plan to hike in this unit, be aware that it is outside of designated Wilderness. In 1980, Mount McKinley National Park was expanded and renamed Denali National Park and Preserve and this area was included as part of the new park's additions. The Kantishna Hills and surrounding areas are a historic mining district dating back to the early 1900s. There are patented and un-patented mining claims in the area, private property and privately owned and operated lodges. People who have traditionally hunted, fished and trapped in the area continue to do so.
The miners in this area established travel routes along ridges and in creek beds to access their claims. There are cabins, equipment, old roads and assorted refuse on public and private land in very remote areas. Hikers in the Kantishna Hills must respect private property and the cultural significance of the mining history. Do not disturb the historic relics and never enter a private residence without prior permission.
If you obtain a backcountry permit for units 40 – 43, be sure to take the free hand-out from the Backcountry Information Center which explains the regulations and warnings pertaining to the Kantishna Hills. It may be unsafe to drink the water from the following streams due to heavy metal contamination: Eldorado, Slate, Friday, Eureka, Caribou, Spruce, Glacier, Stampede and Moose Creek below Spruce Creek. Water filters, boiling and chemical treatments are ineffective for treating water with heavy metal contamination.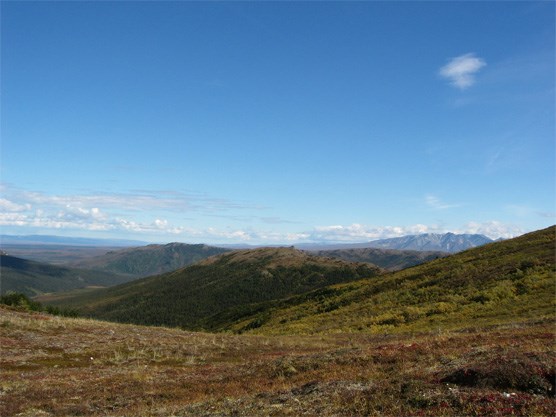 Last updated: September 1, 2015