Unit 36: Jumbo Creek
UNIT 36
JUMBO CREEK
Quota: 2
USGS Quad Maps: Mt McKinley B2

Description
This small unit is the companion to Unit 35, but is closer to Wonder Lake and the Kantishna Hills. The area is mostly rolling tundra, with heavy brush, wet tundra and swamps between the hilltops. Beaver ponds can be found throughout the area, providing excellent habitat for waterfowl and other migrating birds.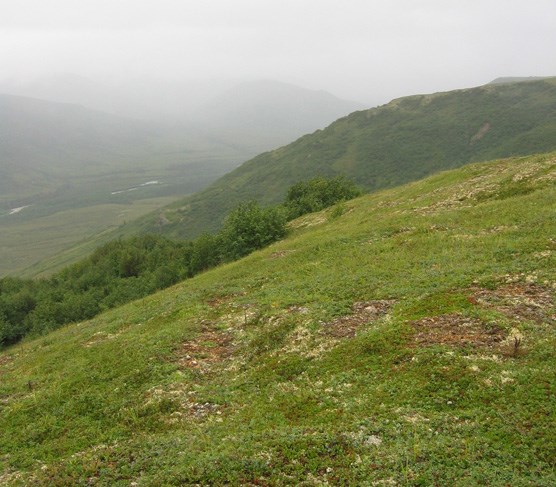 Tips/Special Features
This unit has easy access from the Park Road and spectacular views of the Alaska Range and Wonder Lake, but there is little open tundra. This is a good unit for taking a short hike – it is difficult to do long trips here without moving in and out of thick brush and wet tundra. If you want to travel around this unit, try to stick to the ridge tops as much as possible rather than the drainages. In the fall, this area is known for its abundance of tasty blueberries and professional photographers.

Access
There are many locations along the Park Road between Mile 78.5 and the Wonder Lake Ranger Station where hikers can start hiking cross-country into the unit. Look for locations from the bus where the ridges come closest to the road and use one as your point of access. Some hikers get off the bus before Wonder Lake Campground to avoid the extra ½ hour wait at the Campground. It is a 5 hour bus ride to the Campground and it would be about a 5.5 hour ride to take the bus to the Wonder Lake Ranger Station.


Routes/Hiking Corridors
Due to the topography and vegetation present in this unit, it is a good place for an overnight trip or as a base for day hikes in the Wonder Lake area. This is not a good option for those who want to cover a lot of miles or explore alpine terrain. One way to explore the area is to start a hike on the eastern end of the unit and generally follow the higher ridges that run parallel to the Park Road.
The only dry tundra in this area is on the rounded hills behind the Wonder Lake Ranger Station at Mile 86.7. It is a strenuous hike up to these hills, but the views are impressive. There are a few places to camp on these ridges, but little water. Hiking along ridges to the north are possible, but it will be brushy. These ridges do provide a way to create a longer loop hike by connecting with old mining roads in the lower Moose Creek valley near Jumbo Creek.

Additional Notes and/or Hazards
There is a large "Day Use Only" zone in this area due to the proximity of Wonder Lake Campground and various National Park Service employee housing facilities. Mark this no-camping zone on your map and camp out of sight of the Park Road, Campground and the Kantishna Lodges. The mosquito population is dense in June and July.
Last updated: September 1, 2015