Unit 35: Moose Creek
UNIT 35
MOOSE CREEK
Quota: 4
USGS Quad Maps: Mt McKinley B2
Description: The topography of this unit is a series of broad, rounded ridges formed by glacial moraines which are dissected by small drainages that flow into Moose Creek. This area is mostly rolling tundra hills, with heavy brush, wet tundra and bogs between the hilltops. You are definitely out of the mountains and in open country now. Lower elevation also means the return of shrubby vegetation and spruce forests in the creek bottoms.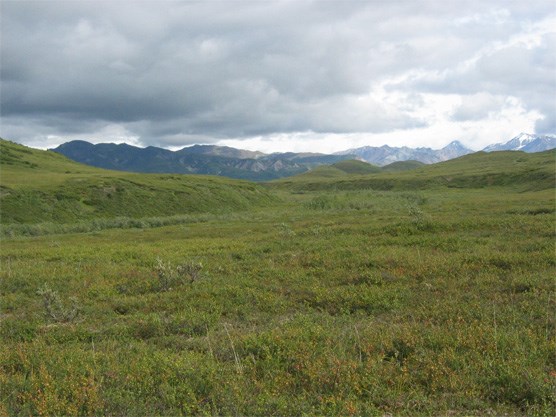 Tips/Special Features: It is easy to get away from the road and up onto a low ridge in this unit with the entire Alaska Range visible to the south. Beaver ponds can be found throughout the area, providing an excellent habitat for waterfowl and other migrating birds. However, in some locations, these beaver ponds can be difficult to navigate around without trudging though deep water and mud. Arctic Grayling are found in Moose Creek.
Access: It is possible to access this unit almost anywhere along its southern boundary, the Park Road between Mile 71.5 and 78.5. There are no real barriers to travel other than brush and beaver ponds because all the terrain is gentle and open. It is about a 4.5 hour bus ride to this part of the park.
Routes/Hiking Corridors: This area is good for an overnight trip, as it gives you a chance to see the majority of the park from the bus and still spend a night in the backcountry. The small drainage bottoms will be difficult walking due to the brush. Stick to the more open ridge tops or the large streams like Moose Creek to get around in this area.
The easiest way to do a short hike in this unit is to pick an attractive low ridge north of the Park Road and start hiking. Routes do not play as big a role for travel in this low, open country as they do farther east. If you want to move further away from the road, or find the quickest way to get to Moose Creek, an unmaintained trail to Moose Creek shown on the USGS map is a good access point. The first mile provides a route through the brush; however, after that the trail disappears and you will be on your own to find a route down to the creek.
One extended hike in this area is to follow Moose Creek northwest to the Kantishna Hills (Unit 41 and 42) and then return to the Park Road near Kantishna. This requires multiple crossings of Moose Creek and it becomes increasingly difficult to cross downstream as it meets up with other branches. Another option for a multiple-day trip is to travel upstream on Moose Creek into Unit 34 along the river or high on the ridge to the north of Moose Creek.
Additional Notes and/or Hazards: Make sure your tent is ½ mile from the Park Road and out of sight of it. Respect private property if you follow Moose Creek to the north toward Kantishna, do not enter or disturb any cabins. The mosquito population is dense here in June and July.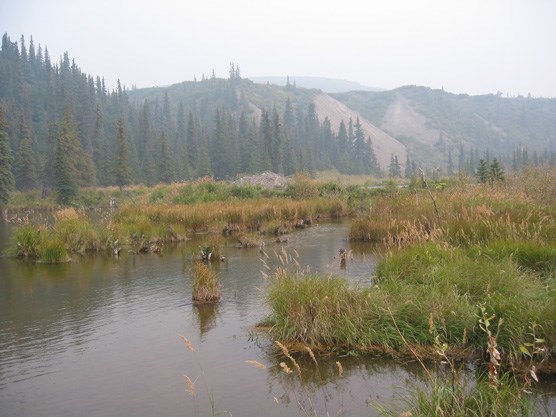 Last updated: April 14, 2015