Unit 33: Stony Hill
UNIT 33
STONY HILL
Quota: 4
USGS Quad Maps: Mt McKinley B1, Mt McKinley C1

Description
This odd-shaped unit is centered on Stony Creek, an easily crossable stream that has produced a moderate sized gravel bar leading through the Outer Range. Surrounding the stream as it flows north are alpine tundra slopes and small side drainages that lead east to the Toklat River or west and north toward Moose Creek and the Clearwater Fork of the Toklat.
Tips/Special Features
Stony Creek is not fed by glaciers; it is clear and has fish swimming in it. This area is recommended for people new to cross-country travel; it has relatively easy access into alpine terrain and loop hikes that do not require major river crossings. If Unit 33 is full, you can find similar terrain and access in Unit 39 or 34.


Access
There are two forks of Stony Creek that can be used to access this unit from the Park Road. Big Stony Creek (Mile 60) is on the east side of Stony Hill and Little Stony Creek is on the west. You could also take off across the tundra from anywhere near Stony Hill or west of it. It is about a 3.5 hour bus ride to Big Stony Creek.


Routes/Hiking Corridors
Due to the shape of the unit, it is best suited for a 1 or 2 night stop-over before moving into another unit. Both branches of Stony Creek provide quick access away from the Park Road and you can be out of sight of all development after a mile. Travel along the creek after the two forks come together is not difficult because there is relatively little brush and no cliffs to navigate around. For most of the summer you can easily cross the creek; it is not as large as the glacier-fed rivers nearby.
This area is ideal for multi-day loop hikes. Two prominent drainages along the east side of Stony Creek lead over to the Toklat River (Unit 32) south of Bear Draw. To the west, just downstream of the Big and Little Stony Creek confluence, is a drainage to a moderate pass that leads into the headwaters of Moose Creek (Unit 34). The brush can be quite thick in sections of this pass; but in good weather it can be rewarding to walk westward on the high ridges of Mt Thorofare or Mt Galen.
The northwestern section of Unit 33 is a maze of small drainages, high ridges and complex topography. It can be fun to explore, but be sure you have a good topographic map of the area and pay attention to scale. Following Stony Creek north into Unit 39 and then looping back into Unit 33 is another way to access this seldom visited part of Denali.


Additional Notes and/or Hazards
The confluence of Big Stony and Little Stony Creek is the start of Unit 39; make sure to camp on the south side of this junction and out of sight of other backpackers. The USGS map feature labeled "Berg Lake" on Big Stony Creek no longer exists. The natural dam of the lake gave way and now it is only a stream bed.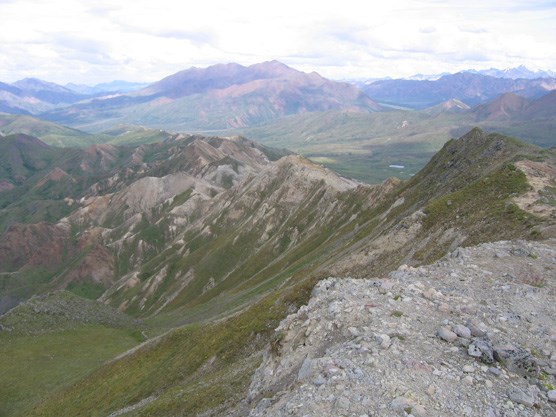 Last updated: April 14, 2015