Unit 14: McKinley Bar East
UNIT 14
MCKINLEY BAR EAST
Quota: 4
USGS Quad Maps: Mt. McKinley B1, Mt. McKinley B2

Description
The southern portion of this unit is the one mile wide McKinley River Bar. Much of the gravel bar is free of vegetation. The north side of the bar is bounded by terraces of mixed brush and thick spruce forest. The slopes leading up to the Park Road at the very northern edge of the unit are brushy, spongy, wet tundra with many hidden ponds and bogs. There are spectacular views of Denali and the high peaks of the Alaska Range.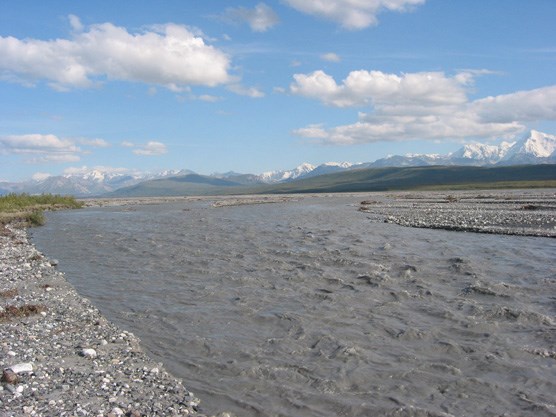 Tips and Special Features
This is a good unit for an easy one or two night hike, but the options for connections into other units are limited by major obstacles such as the Muldrow Glacier to the east and the McKinley River to the south. This unit is best enjoyed in early June or late August when the mosquito numbers are down.

Access
The easiest access to this unit is from the McKinley Bar Trail that begins near the Wonder Lake Campground. This established trail is 2.5 miles one-way, with negligible elevation gain. The slopes between the road and river bar in the eastern portion of the unit are very brushy and boggy. It is about a 5 hour bus ride to Wonder Lake Campground.


Common Routes and Hiking Corridors
The McKinley Bar Trail takes you from the Wonder Lake Campground road to the McKinley River gravel bar through the area's spruce forest and bogs. There is plenty of easy walking along the open river bar with many places to camp in full view of Denali. It is possible to do a loop hike by dropping down from the Park Road to the gravel bar in the eastern end of the unit and then returning to the road via the McKinley Bar Trail. Traveling downhill through this vegetation is the preferred choice. Traveling up the Thorofare River to Unit 13 is not recommended because the river runs through some steep canyons between bluffs and the Muldrow Glacier. The river can be impossible to cross without being swept downstream in summer, but it can be forded during times of lower water early and late in the season.
Crossing the McKinley River to the south (Units 19 and 20) should only be attempted by backpackers with previous major river crossing experience. This is a large, glacier-fed river and it is extremely difficult to cross for most of the summer, even in sections where it is heavily braided. It is best to cross the river early in the morning, meaning it is ideal to spend your first night in Unit 14 and crossing the next day.

Additional Notes and Hazards
You must camp at least a ½ mile from the McKinley Bar Trail. It can be difficult to camp out of sight of the Park Road on the gravel bar. The McKinley River can be an extremely hazardous river to cross, especially at times of increased rainfall.
Last updated: March 1, 2021