Unit 12: Sunrise and Sunset Glaciers
UNIT 12
SUNSET/SUNRISE GLACIERS
Quota: 4
USGS Quad Maps: Mt. McKinley B1

Description
This unit is centered on the wide gravel bar of the Thorofare River which winds its way north to the Park Road from the basins of the Sunrise and Sunset glaciers. The river is surrounded by tundra benches, tundra ridges and high peaks.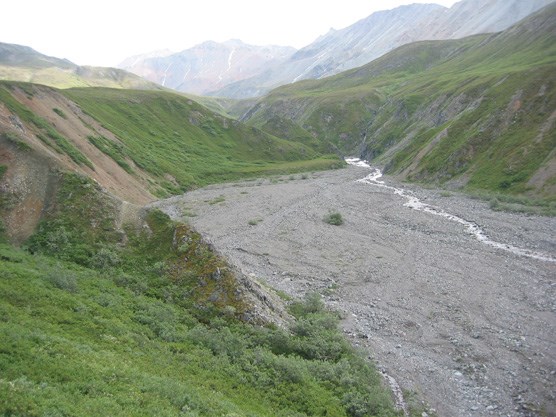 Tips and Special Features
This unit provides easy access to large areas of alpine tundra and glacial terrain. Unit 12 is one of the most popular units in the park so expect to have difficulty getting a permit for it. If you are doing a long backpacking trip, you can plan to end your trip in the Mt. Eielson area, increasing the likelihood that the unit quota will not be full. Scott Peak (8820 ft) is an impressive mountain that rises steeply above the head of Sunset Glacier. Green Dome and Mt Eielson do not require glacier travel to reach them.

Access
The primary access points for this unit are from either the Eielson Visitor Center or anywhere near Thorofare Pass. A trail leads downhill from the visitor center to Gorge Creek, but is only maintained about halfway to the creek and is on steep scree for a short section. You can stay on the unmaintained trail to Gorge Creek, but after that point travel is cross country. It is a 4-hour bus ride to the Eielson Visitor Center.


Common Routes and Hiking Corridors
The Thorofare River gravel bar serves as the primary access corridor into the main part of the unit. The areas near the Sunrise and Sunset Glaciers offer many exploring options and are typically less traveled than other parts of the unit. A Thorofare River crossing will be required at some point to reach the headwaters of these areas and it can be very difficult to cross on warm sunny days and after rain events.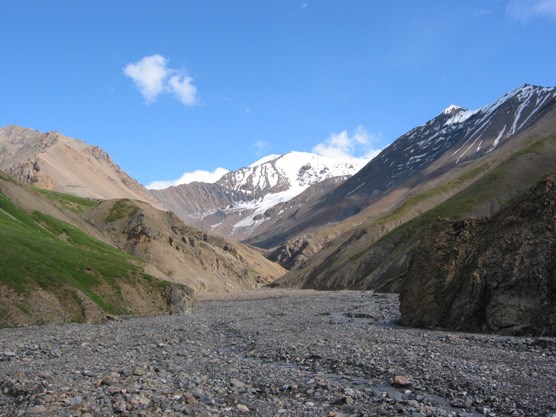 Going up the Gorge Creek or Sunrise Creek drainages provides access to high alpine terrain with excellent camping opportunities. You can connect to the Toklat (Unit 10) and Stony Creek (Unit 11) drainages by crossing passes made of steep scree and permanent snowfields. All these routes require good map reading skills and a willingness to make long climbs over steep terrain. There are many unexpected hazards in the drainages, such as waterfalls, loose rock, and/or grizzly bears. Be prepared to back-track if the route you choose becomes unsafe.
A less demanding traverse is from the Thorofare River to Glacier Creek (Unit 13) via the Contact Creek drainage. This drainage takes you to a pass of moderately steep scree where you can drop into either Wolverine or Intermittent Creek. Great views of the Alaska Range and Denali are found from this area and farther up Mt Eielson. Getting to Contact Creek requires crossing the Thorofare River which can be challenging.
Scott Peak is a high, glaciated peak and is only for experienced mountaineers with proper equipment. Ask at the Backcountry Information Center for more details if you wish to climb Scott Peak.

Additional Notes and Hazards
Due to the wide-open nature of the area, it can be hard to get out of sight and sound of the Eielson Visitor Center and the Park Road. There are a high number of backpackers and day hikers in this area, as well as air traffic overflights, so do not expect as much solitude as you would find in other units.
Last updated: August 30, 2015