Mount McKinley Silver Fox Ranch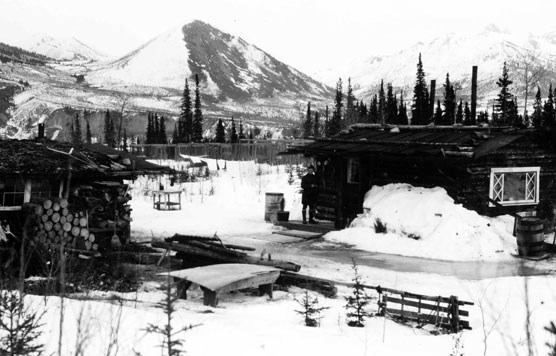 The spot where you stand now is the former site of Duke and Elizabeth Stubbs' Mount McKinley Silver Fox Ranch, a business that sold furs both to tourists and fur buyers, and supplied breeding pairs of foxes to fur farms across Alaska.
Until the late 1920s, raising captive foxes for their fur, called "fox farming," was a burgeoning industry. The cold, long winters that characterized the Riley Creek bottomland offered near ideal conditions for breeding foxes with luxurious fur. Silver foxes, an almost black color phase of red fox, were especially valuable and in high demand both in the U.S. and abroad.

A former U.S. Commissioner, Stubbs wasted no time staking 83 acres, and making his land entry in 1923. He built a cabin, fox pens, pelting shed, barn, warehouse, light plant, and cookhouse, and connected them all with a telephone system. He fed his foxes dried salmon and the carcasses of porcupines, snowshoe hares, and squirrels, as well as ground moose and caribou. Each fox "nesting box" was equipped with an innovative microphone that transmitted every sound the foxes made to a loudspeaker in the house.
"Any unusual noise registered at whelping time is given prompt attention," Stubbs said, "because breeding foxes are easily disturbed by people or wandering dogs."
Agitated foxes sometimes kill their own pups, a substantial loss in an era when a pair of foxes could sell for $1,000, or more. During the fur farm's ten years of operation, Stubbs heatedly complained about rangers disturbing his foxes by mushing dogs on the trail that crossed his land near his pens.
The demand for high-quality silver fox furs peaked in 1928 and Stubbs' business boomed. Then, the next year, as the stock market crash ushered in the Great Depression, fur prices plunged along with demand and the Stubbs' promising business buckled.
When the park boundary shifted east three years later in 1932, the Stubbs moved to New York, where they petitioned the government for the loss of their business and livelihood. They were finally awarded $50,000, the equivalent of about one million dollars during the Depression. Duke Stubbs' health began to fail and he died in November 1938, just a few months after Congress appropriated the funds to pay his compensation claim. No other station resident won a cash award.
Stubbs had been one of the area's most vexing residents during Karstens' tenure, becoming embroiled in situations that clearly did not involve him. Stubbs also feuded with his neighbors, especially Maurice Morino. Both turned a blind eye to the liquor law, but the cabins near and on Stubbs' property were "often the site of drunken brawls," something Morino tried to quell when increasing numbers of tourists began to visit the area. Morino also strongly disapproved of prostitution and held Stubbs responsible for the presence of the working women, even if Stubbs' only transgression was mere proximity to their cabins.

PREVIOUS STOP
The Hole

Last updated: April 14, 2015