Original Park Headquarters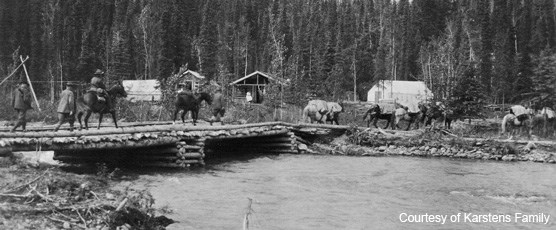 On February 26, 1917, a few days before the U.S. entered World War I, President Woodrow Wilson signed an act establishing Mount McKinley National Park. Four long years elapsed before Congress appropriated funds for the new park. Until then, illegal hunting and trapping continued unabated. Park boundaries, encompassing 2,200-square miles, remained vague or misinterpreted.
Many Alaskans loathed the new park. For the many people of that era whose lives were hardscrabble and tenuous, any limitation of resource development was seen as a threat.

The park's first ranger, Harry Karstens, arrived in early summer 1921, and began the slow, dangerous work of establishing the rule of law in the new park. After a summer of positioning and meeting people, and a long patrol through the park, Karstens began clearing land for his headquarters on the northwest bank of Riley Creek, upstream from the bridge. The location offered an ideal place to monitor people using the trail leading west to the park. Headquarters moved to its current location at Mile 3.4 on the Park Road in 1925.
Anticipating the arrival of his family in 1921, Karstens worked long, backbreaking days on his home cabin, a small sod-roofed, three-room log cabin. His wife and son arrived in early December.
"It was 15 below zero the day I arrived," Louise Karstens recalled. "Our cabin was not finished so we lived in a tent."
In succeeding weeks, Karstens added an office building, another small cabin, and doghouses. Soon, he began training his sled dogs for patrol work.
Karstens warned his four-year-old son, Eugene, of the many dangers here, of thin ice on the creek, the work camp, horses and dogs. The temperature could drop to minus-40°F, or colder, for days at a time, and the sun would not rise over the ridgeline for weeks. A wildfire in mid-July 1924 roared over the south bluff burning over 35 square-miles of land. In early 1922, a heavy rain during spring runoff turned Riley Creek into a seething torrent.
"The creek began to rise and rise until big boulders, some the size of a car, were tumbling down the creek in front of the cabin," Eugene Karstens remembered. One hit a concrete bridge railroad pier and cracked it. "The awful roar of the rushing river combined with the noise of the boulders slamming together was very frightening."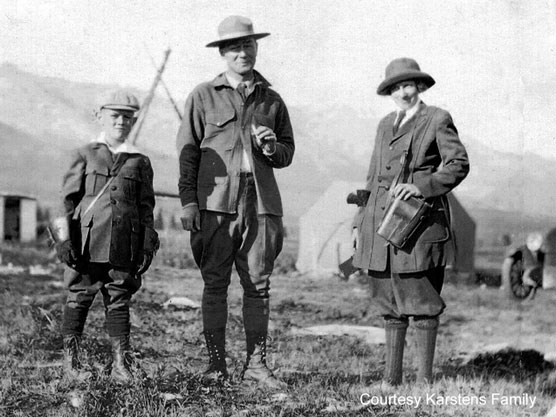 NEXT STOP
Alaska Railroad Trestle


PREVIOUS STOP
Who Were Riley and Hines?

Last updated: April 14, 2015