Who Were Riley and Hines?


You are now standing on the south bank of Hines Creek. In the 1920s your view would have been of a wide, treeless and rocky flat, with two streams converging nearby. The creeks, Hines and Riley, flow together almost directly below the railroad trestle. Both streams were important to pioneer residents. Riley Creek provided access to the mountains for hunters and wood gatherers. A trail on Hines Creek led west toward the park.
Hines Creek was originally called Maurice, or Morris, Creek, after Maurice Morino. Because the first government use of an alternative name appears in park service communication, we can assume that the park's first Superintendent Harry Karstens changed it. He may have named it for an old friend, Frank J. Hines, who had died recently. Both Karstens and Hines had been dog team mail carriers in the early 1900s, and had connecting routes. The two likely had met earlier in Dawson City during the Klondike gold rush of 1897-98. In late May 1922, Frank Hines and his partner drowned when their canoe capsized on Birch Creek in Interior Alaska. Almost three weeks passed before searchers found Hines' body. His partner's remains were never found.
The source of the name Riley Creek, a significant park landmark, also remains speculative. Maurice Morino was a long-time business associate of miner and entrepreneur J.E. Riley, of Fairbanks, whose nickname was "George." Riley was tough, smart, and capable, exploiting almost every gold strike in Interior Alaska, and one of the few to profit from such ventures. It appears that Riley refinanced Morino after a catastrophic bankruptcy. The next year, during the 1914 Broad Pass stampede, Morino built his first cabin on the stream that was soon named Riley Creek.
• Federal law forbids the removal, disturbance, or destruction of historic artifacts of any kind. Any disturbance, no matter how slight, might affect future research and understanding. Enjoy your exploration of this pioneer community but please take only pictures and leave only footprints.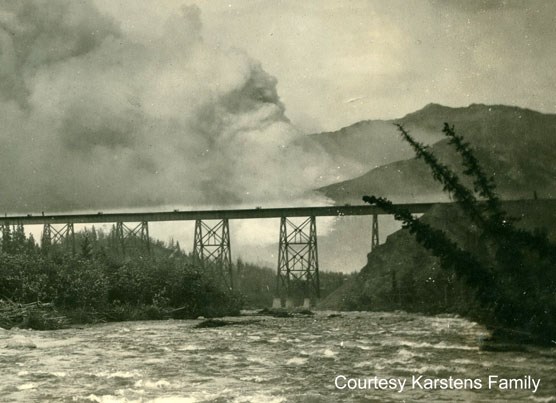 NEXT STOP
Original Park Headquarters


PREVIOUS STOP
Residents of the Station

Last updated: April 14, 2015