Residents of the Station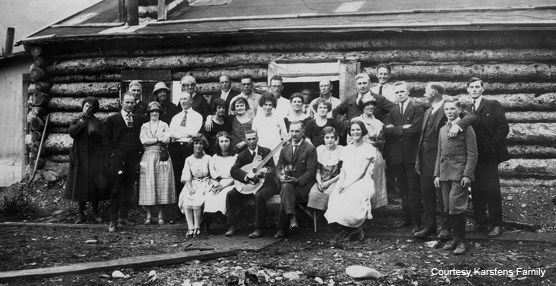 The trail here passes through an area where Maurice Morino alloweed people to build cabins along these plateaus, trading labor for free rent. Whenever an original builder moved out, another person moved in but paying rent, or bartering with Morino for occupancy.

This south-facing, well-drained hillside, less forested then than now, offered excellent garden spots. Many cabin builders tilled small plots raising cold-hardy plants like potatoes, carrots, cabbage, rhubarb, and raspberries. Expert gardeners grew more delicate plants.
The drawback to life on the bluff was the lack of convenient water. Barrels had to be filled and laboriously transported up from the creek bottom. Gathering firewood and water were ubiquitous chores. Between hunting and gardening, many residents developed remarkable seasonal food self-sufficiency. Mere survival took toughness and a certain ingenuity and flexibility.
Woodbury and Beatrice Abbey, parents of two young daughters, built a cabin on Morino's homestead. "Wood" Abbey, a surveyor, came to the park in 1921 to begin the park's first boundary survey. He later applied to be the park's first concessioner, but did not win the contract. Beatrice enjoyed frontier life and thrived despite the lack of modern amenities. She picked berries, helped butcher game, cut firewood, and ordered her family's clothes from catalogs. All of their groceries, supplies and mail came by train. She ordered beef and chicken from Fairbanks, augmented by wild meat procured from local hunters.
Elmer and Maud Hosler also built a cabin on Morino's land, trading labor and materials for five years of rent. Elmer and his father mined in the Kantishna district and for two years Maud served as station postmaster. After Morino's death in 1937, she continued to operate the store and post office.
Harry Lucke, a professional market hunter, repaid his debts to Morino by supplying him with game meat, some of which may have been poached in the park. The German-born Lucke was typical of era Alaskans and had no real occupation. A Spanish-American War veteran, he came to Alaska with the army and stayed on, working as a wood-cutter, guide, laborer, trapper, ferryman, teamster, and market hunter.

NEXT STOP
Who Were Riley and Hines?


PREVIOUS STOP
Mount McKinley Park Hotel

Last updated: April 14, 2015