Social Science

Visitors to Denali are unique—traveling great distances to come to this special park. To understand the park's visitors, social scientists research how individuals enjoy Denali. They do this by asking questions such as:
Who the park visitors are (age, where they live, and other visitor characteristics)
What the visitors do (activities, length of stay)
What the expectations of visitors are for the park (services and experiences)
What level of satisfaction visitors have with their park visit
This research helps park managers ensure high-quality experiences for future park visitors while protecting park resources.
Explore the sections below to learn more about social science in Denali.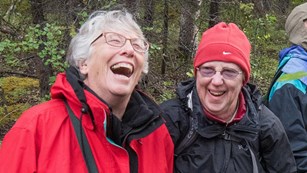 Visitor Trends
Who visits Denali every year and why? Learn more about what the average visitor to Denali is like.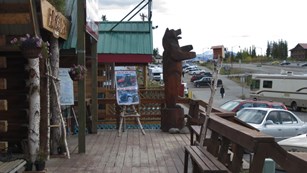 The Local Economy
Discover how buying your bus ticket into the park affects the local economy as a result of visiting the park.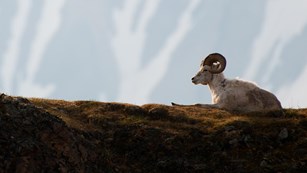 Wilderness
Learn what is so special about Denali's wilderness and what is required to protect the park's wilderness character.
Visitor Experience and Park Management

Social scientists conduct visitor surveys in Denali to learn what visitors experience in the park, and whether these experiences are consistent with management plans. Listed here are some social science research projects that have studied visitor experiences in Denali:
A predictive study of use impacts on the Denali Park Road (2006-2008)
What did visitors like or not like about their bus ride? What contributed to their park visit satisfaction? How many buses at a rest stop or in a vista would be rated "unacceptable" to a visitor?
Monitoring indicators of visitors' backcountry experience in Denali (2010)
Were the conditions that backpackers and hikers experienced in the backcountry consistent with the values for the indicators of backcountry "health" set out in the Backcountry Plan?
Visitor Services Project (VSP) Survey (2011)
What activities did visitors participate in while in Denali? Were they pleased with their experiences in the park?
Social normative study of backcountry visitors' acoustic expectations and experiences in Denali (2011-2012)
What kinds of natural and human-caused sounds do visitors hear when hiking on the Triple Lakes and McKinley Bar trails (in wilderness)? What reactions do visitors have to these sounds?
Upcoming and Ongoing Research
Multiple social science studies take place in Denali National Park and Preserve every year. Below explore current and upcoming projects.
**For more information on these projects or to explore collaboration possibilities please
contact Dave Schirokauer
, Denali's team leader for science and resources
Last updated: March 26, 2021