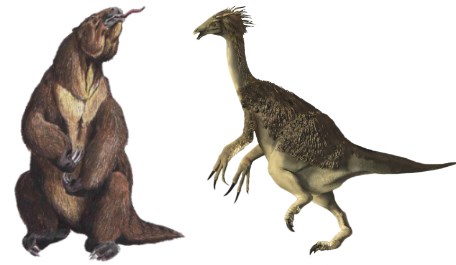 Therizinosaur is Greek for "reaping lizard". This family of theropod dinosaurs had a very unusual set of characteristics including long necks, small heads, potbellies, feathers, and gangly front limbs with long claws.
Identification level: Genus

Numerous species of therizinosaur existed during the Late Cretaceous. Denali's therizinosaur track has been attributed to the ichnogenus (meaning a genus known from trace fossils alone, like footprints)
Saurexallopus
.
What is for dinner?
Therizinosaurs are theropods, most of which are bipedal meat eaters. Their long claws leads one to imagine that therizinosaurs could slice and dice any animal they pleased. Don't be fooled, though – based on tooth, jaw and abdominal characteristics, therizinosaurs are believed to have been vegetarians.