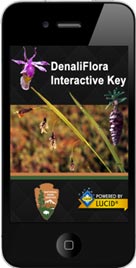 DenaliFlora Plant Identification App
Download a free app to explore Denali's plant life with an interactive key to over 300 species. Cell service and Wi-Fi are limited in Denali, but is available for most carriers at the Murie Science and Learning Center and the Denali Visitor Center.
Once downloaded, the app and all included elements (species descriptions, photos, etc.) are
fully functional out of cellular range
- so you can use the app to identify plants anywhere you may find yourself in Denali's wild landscapes.
Download for IOS from the App Store
Download for Android from Google Play
App Features
Interactive Key: Find a plant you would like to identify, open the app and select from characters listed to start the identification process. Depending on the key some selections may introduce additional characters relevant to the remaining species, or remove characters that no longer apply to remaining species. Descriptions and examples defining botanical terms are provided. Swipe right to see the list of species matching your selected characters, or swipe left to select more characters to narrow down the list.
Species List: Already know the plant but want to learn more about it? Tap the "Species List" button to search all 301 plant species covered by the app. This feature is helpful if you are family with a certain type of plant, for example orchids or spruce, and want to know what species of those groups may be commonly found in Denali.
Key Tutorial: New to plant identification? The DenaliFlora Plant Identification App was designed with you in mind! Swipe through the "Key Tutorial" to learn how to use the interactive key.
About the Key: Read up on the intended purpose of the key, how the species included were selected, and about the Ecological Atlas of Denali's Flora - a web resource for which this app is the field companion.