Landslides & Debris Flows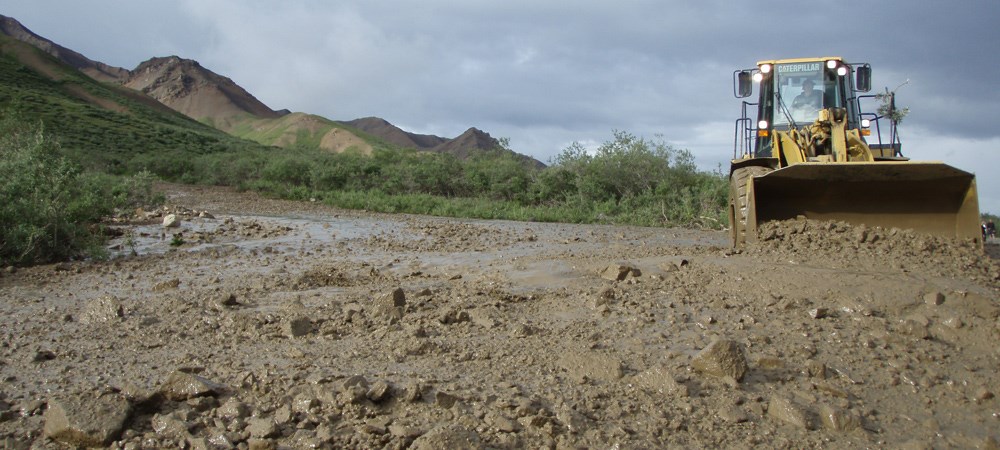 A Dynamic Landscape
"Wilderness" is a word that conjures ideas of ruggedness and timelessness for many people - but the reality is that the wilderness of the far north is surprisingly fragile. The massive landscape of this park - an area half the size of Switzerland - can witness dramatic alterations, such as landslides.


2013 Igloo Debris Slide
In late October, road maintenance staff discovered that a 600'-long, 110'-wide debris slide had blocked the park road near Mile 38.

Blocks of permafrost-frozen, unconsolidated debris as thick as 15' and the size of a small cabin had slid on a slippery, unfrozen clay that acted as the failure plane. With winter snows held off by unseasonably warm weather, the Denali road crew managed to clear the road of debris after considerable effort.

The trigger for the slide remains unknown. Ground, aerial, and satellite imagery of the site in the years and months before to the event indicate that a small slide had previously occurred here, groundwater seeped from the area, and the ground was beginning to move slightly (see imagery). In the days preceding discovery of the slide, the area was experiencing temperatures that fluctuated near the freezing point. Therefore, the forces associated with the expansion of ice during the repeated freezing and thawing of water near the surface may have triggered the slide. Alternatively, we also know that a thick layer of permafrost slid on an unfrozen layer of clay.
Regionally
, permafrost is thawing; while the
local
trend is presently unknown, thaw in the area would be consistent with regional trends. Therefore, it is possible that the permafrost thinned through the clay layer, which triggered the slide. Many other triggers are also possible and are being examined.
The exact timing of the slide also remains under investigation. The last confirmed passage through the area before discovery of the slide occurred on October 12th. Anyone that traveled in the area of the slide between the 12th and the 23rd is encouraged to
contact our park geologist
. The Alaska Earthquake Information Center also attempted to determine the timing of the slide; however, due to its relatively small size and apparent slow movement, it is possible that the slide did not create a distinctive seismic signal like larger, faster events.
The future hazard to the Denali Park Road to debris slides and other mass movements is under active investigation. In the spring, when the ground thaws, additional activity at the Igloo Debris Slide can be expected. A ditch to capture these materials has been excavated. If deemed necessary, Denali National Park staff will institute additional protective measures with the assistance of the Federal Highways Administration. Denali staff has already begun the process of analyzing other sections of the Park Road for similar problems so that potential hazards can be mitigated.
Landslide & Debris Flow Science Stories