Denali's Cretaceous Mural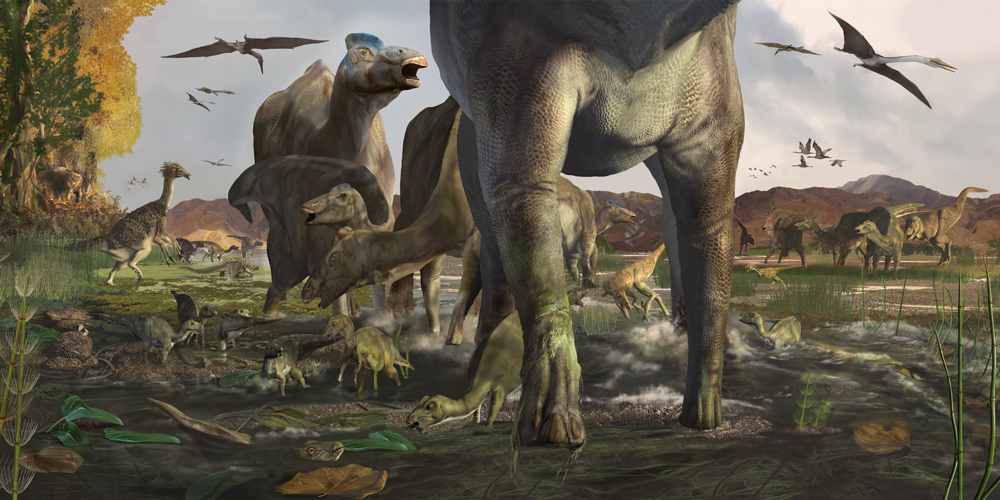 Click on the plants and animals in the mural to learn more about a selected topic.
In 2013, Denali enlisted mural artist, Karen Carr, to illustrate Denali's rich fossil history. This collaborative project between scientists and artists now allows visitors to journey back in time. The mural shows a ground-level view of what Cretaceous Denali might have looked like. It also showcases the wealth of our paleontological research knowledge.
Explore what Cretaceous Denali was like by clicking on the animals and plants features in the mural above.
More Information
Trace Fossils

Trace fossils include everything from tracks to scat. Learn more about what these fossils can teach us about the lives of dinosaurs.

Denali's Cretaceous Climate

Modern Denali is known for having frigid winter temperatures but what was the climate like 70 million years ago?

Making the Mural
Digital Dinosaurs
For more than 15 years Karen Carr has mostly used digital drawing and painting techniques to create her artwork. However, over the past few years she has adopted a cutting-edge technique that involves three-dimensional modeling. Using ZBrush, a software program that animators use for contemporary movie graphics, she creates the animal three-dimensionally and then restricts its joint movements so that it can only move in realistic ways. She then paints the creature's skin two-dimensionally before digitally wrapping it onto the model of the body.
Once finished, the dinosaur can be repositioned into an infinite number of positions. It can be shrunk or enlarged to represent juveniles and to account for distance. By pasting two-dimensional snapshots of this modified three-dimensional animal onto a digital canvas, voila, Karen can easily create a large herd such as the hadrosaurs in the Cretaceous Denali mural!
Why a mural?
This collaborative project between scientists and artists took over a year to complete. Why did we do it? In order to illustrate Denali's rich fossil history that is comprised mostly of "traces". Because only trace fossils have been found so far, as opposed to body fossils, it is very difficult to visualize Denali's dinosaurs without the help of an artist. Artists breathe life into the details provided by the scientists helping everyone to see the past. We hope that this mural helps the public to journey back to Denali during the Cretaceous time period, and that it showcases the wealth of our paleontological research knowledge.
Who was involved?
A science advisory team worked closely with artist Karen Carr in order to reflect the most current scientific information available for Denali's Late Cretaceous Period. Dr. Sierra McLane (Denali Park Education Coordinator) provided oversight and coordination for the project. Science advisors included Susi Tomsich (Ph.D. Candidate, University of Alaska Fairbanks), Dr. Anthony Fiorillo (Curator of Earth Sciences, Perot Museum of Nature and Science), Dr. Paul McCarthy (Professor of Geology and Geophysics, University of Alaska Fairbanks), and Dr. Denny Capps (Denali Park Geologist). Project inspiration and support was provided by Dr. Philip Hooge (Former Denali Park Assistant Superintendent of Resources, Science and Learning).

Making changes up to the last minute!
Several stages of review and editing were required to get the mural just right. Initially the viewer looked down onto a herd of hadrosaurs on a distant floodplain. Thankfully Karen realized that a ground-level perspective would be more exciting, but even that mock-up had to be tweaked to turn the dinosaurs around so that viewers would see more dinosaur heads than behinds. The mural was finally completed on December 9, 2013, but four days later a scientific article was published indicating that Edmontosaurus bulls had blue fleshy cock's combs on their heads. Without hesitation, Karen went back to the digital canvas and added the combs.
Mural of the Future: What will we learn?
Although there is much known about Denali's past, there is always new knowledge waiting to be discovered in the rocks. What might need to change in this mural to maintain its scientific accuracy? Will we learn that pterosaurs flew in a flock formation like geese? Perhaps Edmontosaurus chicks remained in the nest much longer than currently thought and would need to be bigger if traveling with their parents? We hope and expect that plants and animals yet to be discovered will need to be added to the scene over time.
Last updated: June 3, 2019