Denali Discovery Pack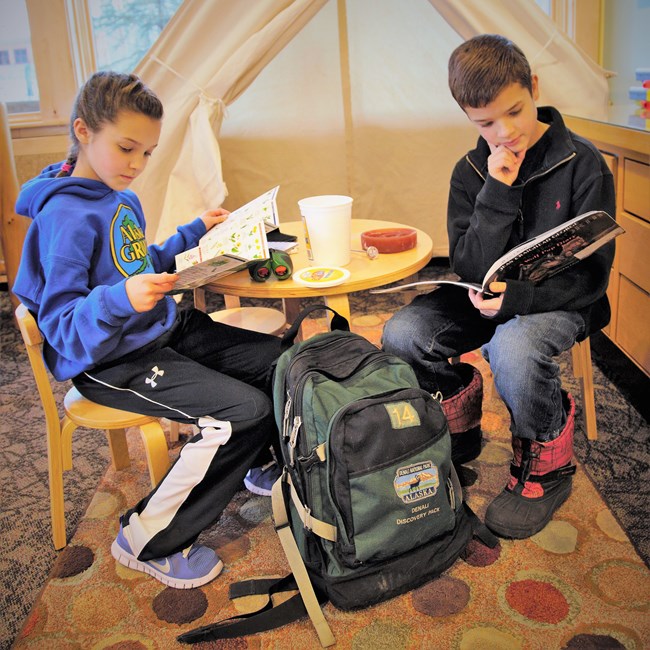 Calling all explorers!
We encourage families and groups visiting with children to check out a free Discovery Pack from the Visitor Center. Each pack contains an array of educational activities, equipment, and supplies for kids who are keen to learn about Denali science and culture while exploring the park. Your pack may include some or all of the following:
Discovery Pack Activity Guide
Pencil, colored pencils, pencil sharpener
Ruler
Thermometer
Compass
Hand lens, magnifying box
pH test kit, water sample jar
Books, factsheets
We stock packs with additional supplies as needed, so your family or group need only check out one pack.
Returning the Pack
When you are finished exploring the park, return your Discovery Pack to the Visitor Center during business hours. If the Visitor Center is closed, simply drop your pack in one of the Bear Resistant Food Container return boxes outside the Backcountry Information Center (near the Denali Bus Depot). We appreciate your keeping track of contents but will not charge for missing items upon return. As educators, we know things sometimes get lost! Please use the checklist grid included in your pack to account for all equipment and supplies.

Improving the Pack
We hope that kids and grownups alike will have fun asking questions and finding answers with the help of science tools and guides included in your pack. If you think of any ideas for improvement, please consider sharing your thoughts on a comment card.

Last updated: February 15, 2023