Fellow mountaineering rangers Dan Corn, Mark Westman and I recently returned from a climbing patrol in the vicinity of the Kahiltna Basecamp at 7,200 feet. We landed at the airstrip with loose climbing objectives given the unsettled weather that was forecasted for our patrol window. Our primary objective was snow and route condition assessment of the popular climbs that surround the traditional base camp for Denali climbers. The diversity and number of objectives in this area make it an ideal location as a base for a climbing trip. Many of these climbs are commonly overlooked by expeditions focused on the larger peaks in the area.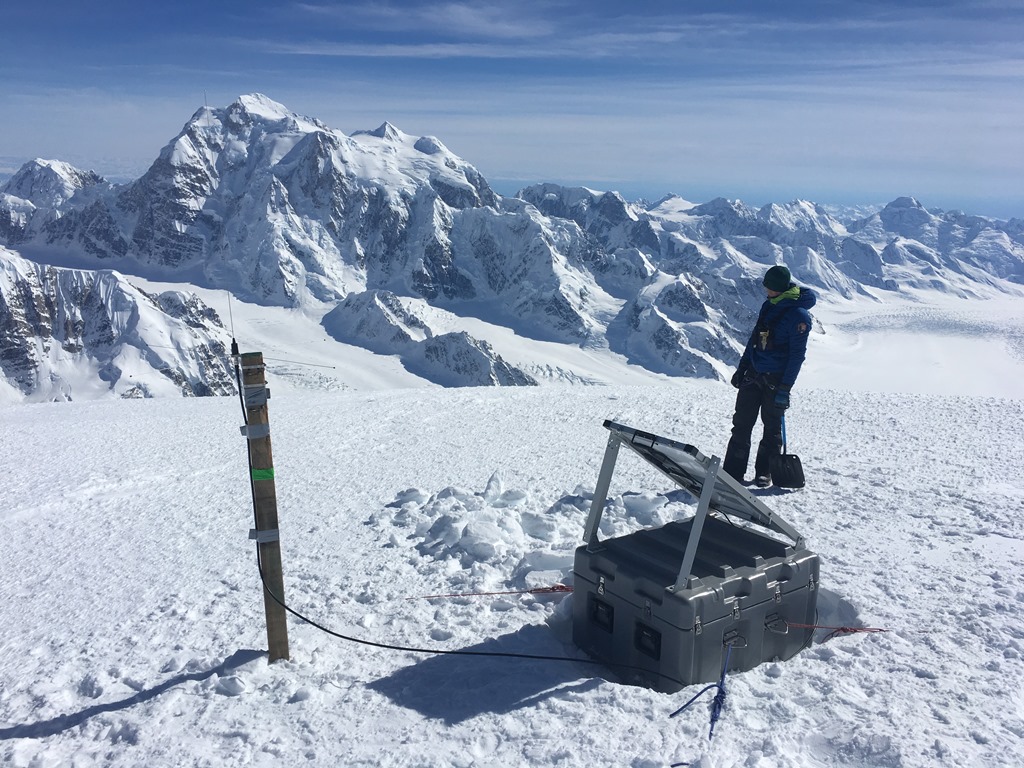 Ranger Dave Weber takes a moment to look back at the Kahiltna Basecamp and Mount Hunter after installing the NPS radio repeater atop Mount Crosson. (NPS Photo/Dan Corn) 
On April 22
nd
, Dan, Mark and I flew to the glacier, installed our NPS radio repeater on Mount Crosson at 12,800 feet and completed helicopter short-haul training evolutions before beginning our actual climbing patrol. We spent the remainder of that day building our camp, checking in with the other climbing teams and getting a handle on the winter's snowpack. The following day we traversed Annie's Ridge from the main fork of the Kahiltna Glacier. This feature forms the southern skyline and border of the Kahiltna landing strip. In recent seasons, this ridgeline and it's north-facing slopes have seen increased skier and climber traffic.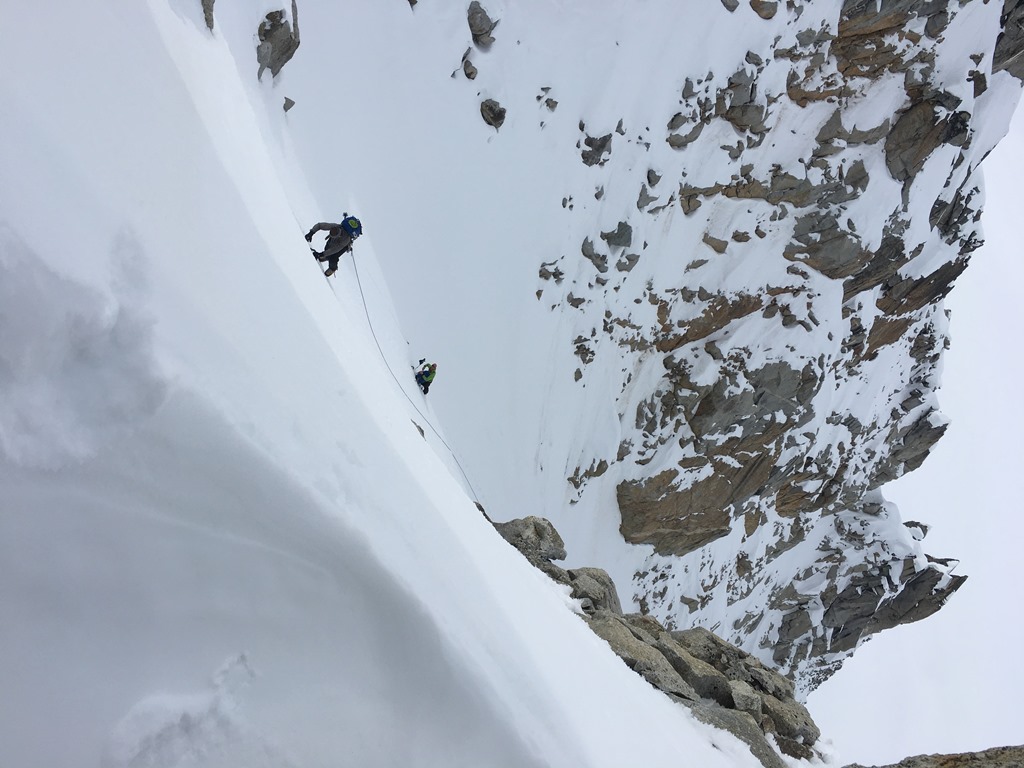 Climbing the access couloir to Annie's Ridge (NPS Photo/Dan Corn)
We had a great sunny day with little wind to traverse this feature. With less-than-average snowfall this winter, more rock was exposed on the ridge and made for an enjoyable outing with mixed climbing options. This is a great route for a climbing day around basecamp even in less than stellar weather. A few rappels were required after the highpoint of the ridge to get us back to our camp that evening.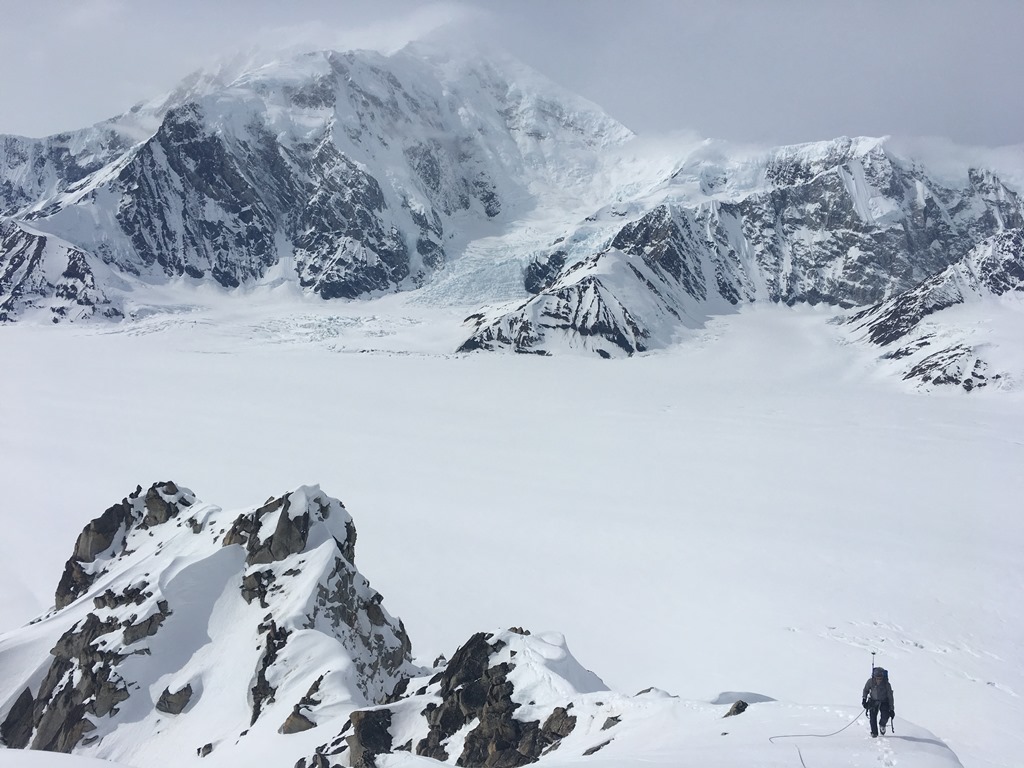 Climbing along the spine of Annie's Ridge (NPS Photo/Dan Corn)
The weather became more dynamic during the days that followed. In between intermittent fog and snow, we were able to climb and ski each day. One of the enjoyable outings was to the nearby Radio Tower (aka Control Tower) peak. This nearly 9,000-foot peak that lies to the east of camp, offers variable climbing conditions throughout the season. The majority of our early season ascent was completed on skis. Upon reaching the bergschrund (uppermost crevasse) and adjacent summit ridge, we transitioned to crampons and snow pickets for fall protection.  
We awoke to a foot of new snow on our final patrol day and enjoyed a morning of powder skiing near camp. We also heard from other climbing parties that the Bacon and Eggs (Mini Mini Moonflower) climb was in good condition this season. On April 26
th
, we departed base camp for Talkeetna ahead of an impending storm scheduled to hit the Alaska Range the following day. In summary, plenty of ice, rock and ridge climbs are located within close proximity of this base camp. These climbs are great during shorter weather windows, to augment longer expeditions or as standalone climbing trips into the range.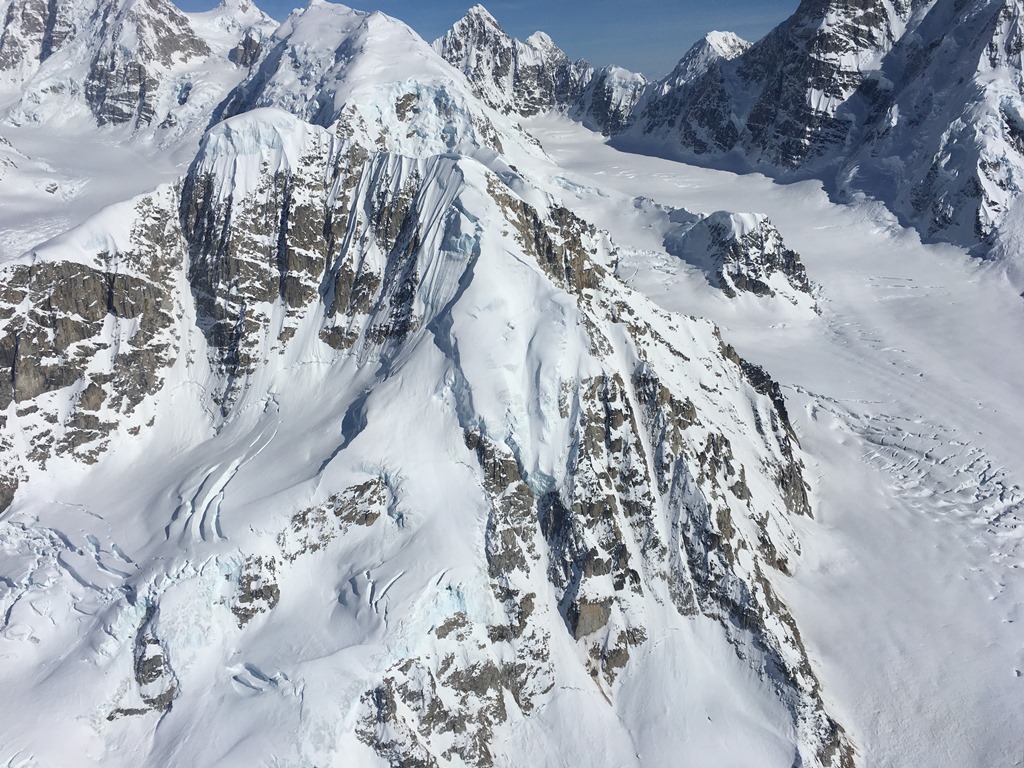 Mount Frances from the summit of Mount Crosson (NPS Photo/Dan Corn)