Kesler Woodward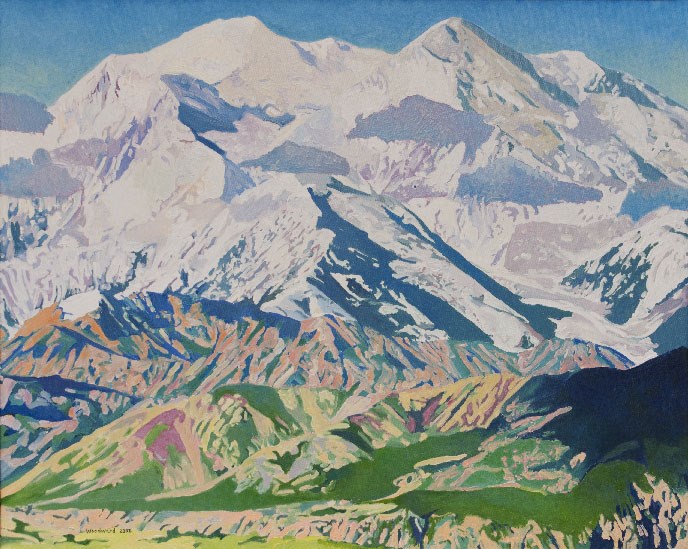 Drifting Clouds, Denali 2002
I have painted in Denali Park for almost three decades, finding in this magical place more varied inspiration than any other part of the Northern wilderness that I've roamed and painted from Hudson Bay to the Siberian Arctic. It took me 15 years of visiting the park to work up the courage to take on the image of Denali itself, as it is the most daunting icon in Alaskan art-a subject almost impossible to do justice to and nearly as difficult to tackle with originality. In the last five years, spending more time here than ever, I have found ways to pay homage to "The Mountain," and would like to think I've seen and depicted it in a new way. I have more to say about it, and will keep on painting it, but as I get to know the park better and better, I find myself drawn as well to the smaller wonders of its cold streams, silent pools, and sparse forests. I think I will find inspiration here for a lifetime's work.
— Kesler Woodward, 2002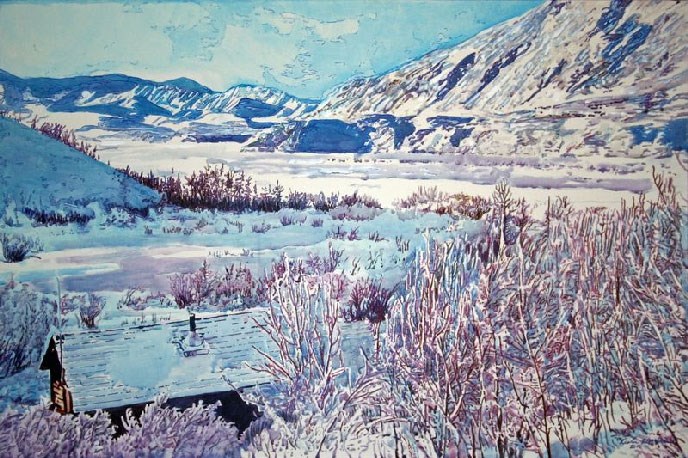 East Fork Winter
"East Fork Winter" chronicles my stay in the East Fork Cabin as Denali's first winter Artist-in-Residence in February 2010. Ever since 2002, when I served as the park's first Artist-in-Residence and helped set up the program, I've wanted to be in that cabin in winter. Last February, my writer friend Frank Soos and I skied the 43 miles into the cabin, stayed several days, and skied back. The park's dog teams provided support by hauling many of our supplies.
"East Fork Winter" was painted months after the trip, when the experience of being in that wondrous spot in the winter silence had settled deep enough in my consciousness to make a personal, original statement about it. This seemingly simple scene took me a long time to paint, slowly and carefully teasing structure, light, and color out of a cold, still, brightly lit landscape that at first glance was nothing but blinding white. As always in my work, what I want the painting to be about is not what the place looked like, but how it felt to me to be there.
— Kesler Woodward, 2010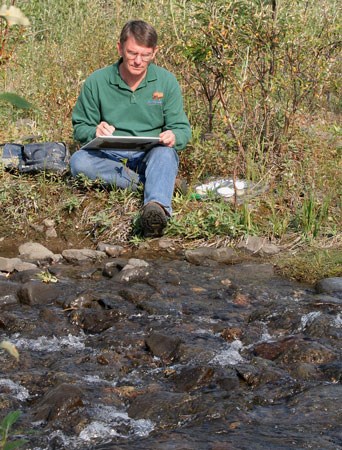 Kesler Woodward
, program founder and first Artist-in-Residence, has painted Alaska and the circumpolar North, from Hudson Bay in Canada to the Bering Strait and Siberia, for more than 35 years. An Alaska resident since 1977, his work is included in all major public collections in Alaska and in museum collections on both coasts of the United States. He is Professor of Art Emeritus at the University of Alaska, where he taught painting for twenty years before retiring to paint full time in 2000. In 2004 he received the first Alaska Governor's Award for Lifetime Achievement in the Arts, and in 2012 he was awarded the Rasmuson Foundation's Distinguished Alaskan Artist Fellowship. Visit his
website.
Last updated: March 7, 2019