2018 Artists-in-Residence
Tamar Assaf

Harnessing her education in Natural Sciences and Art, combined with environmental and conservational aspects of the world we live in, Tamar Assaf's artwork is a subtle social and ecological commentary addressing human influence on nature, the changing ecosystems and the understanding that entire ecosystems function as a delicate balance of species interacting in a woven tapestry of interdependencies.

Katie Craney
My days at the Savage Cabin brought a heightened sense of spatial awareness in a vast, frozen wilderness, yet my brain searched for patterns in the expanse of solitude. This experience offered a chance to observe the subtleties of winter in Interior Alaska: shifts and shadows of light returning, great horned owl calls cutting through the patter of falling snow, the woodstove's erratic crackle of sap and water warming, evenings cast by a waxing moon, feverish tracks of snowshoe hares through spruce trees, the trickle of flowing water under ice, and many more observations I will use in my practice.
—Katie Craney
Using wax, found materials, and scrap metal, Katie's work reflects on loss, memory, and identity in a rapidly changing northern landscape. Katie moved to Southeast Alaska after receiving a BFA in painting from the University of Wisconsin-Stout, and now lives in Haines. She was a featured artist for the
United Nations Framework Convention on Climate Change
, and has published and shown her work internationally. She recently participated in a month-long residency in North Iceland and was the Winter Artist-in-Residence in Denali National Park & Preserve.
Visit Katie's website
Cody Kauhl

Cody Kauhl is a digital media artist that pairs found sound and video with the intimacy of the human voice. His work has been performed at international and national festivals and conferences including the International Computer Music Conference and Society of Electro-Acoustic Music in the United States.

He is currently treasurer of the Kansas City Electronic Music and Arts Alliance (KcEMA) and vice-president of No Divide KC. Cody graduated in 2011 with a B.M. in Music Theory/Composition at Southern Illinois University Edwardsville and received his M.M. in Music Composition at the University of Missouri – Kansas City in 2015.

During the Denali AiR program, he hopes to record a large collection of visual and audio samples of his environment for use in songs and compositions in the near future.
Charles Mason
Charles Mason has lived in Fairbanks since 1984, and has taught photography at UAF since 1990. His work has centered around documentary photography, and includes many topics.

Among these are series on Reindeer Herding, Street Work, Zoos, Kudzu, and Dinosaurs. Mason has made cross country trips shooting what he finds, and looks forward to the 90-mile Denali National Park road.

He will be working in a new (for him) photographic medium--collodion, or wet plate, photography. This 19th Century process will, he hopes, result in a body of work on 8x10 field-made glass plate negatives, processed in his VW Westfalia mobile darkroom.
Bronwyn Mauldin

Bronwyn Mauldin writes fiction and poetry, and creates zines. She's the author of the novel Love Songs of the Revolution and the collection The Streetwise Cycle.

Her short fiction has appeared at Akashic Books, Coffin Factory, Literature for Life, CutBank and other places. In 2016 she was Artist in Residence at Mesa Verde National Park, where she created her first zine.

Bronwyn will spend her time in residence at Denali National Park exploring the relationship between democracy and climate change and will create a new zine for her Democracy Series.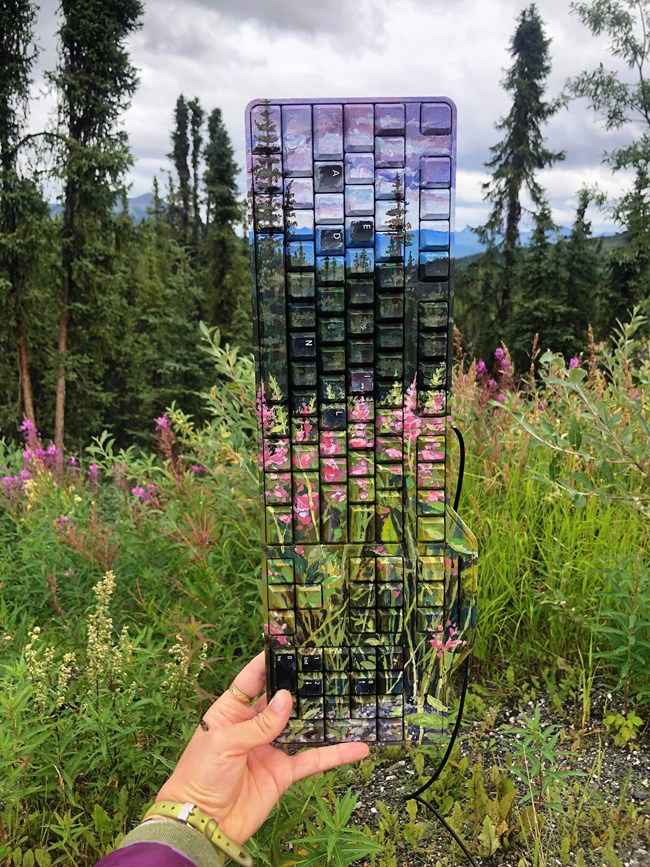 Mariah Reading
Born and raised in Bangor, Maine, the surrounding landscape gave me a deep appreciation of nature's beauty that was reinforced by a degree in Visual Arts at Bowdoin College.

I have been contemplating my relationship with art and the vast amount of waste creating can produce. Classically trained as a landscape painter, I pivoted to eco art when the parallel between painting landscapes and feeding landfills became overwhelmingly apparent. The landscapes that so richly inspired me were being hurt by the waste I created in order to depict them.

To rectify this unwanted connection, I have developed a zero-waste practice that involves creating canvases from debris found during my travels through National Parks and protected landscape environments.
—Mariah Reading
Fireweed Keyboard
My time in Denali was spent highlighting the ways the Park and the Zero Landfill Initiative was and continues to leave no trace. In my entire ten day residency at the Toklat River Cabin, I found just one piece of substantial trash left behind. All of my other canvases were either my own accumulated trash or objects found in the Denali Recycling Center. Although the park was virtually spotless, the process of managing waste and recycling in such a remote location is time intensive, expensive, and requires a considerable amount of energy. This painting on a keyboard found in the E-waste section of the Denali Recycling Center is of the view from the recycling center. It is essential to share these intricate methods necessary in preserving our wild parks; methods that largely go unnoticed by the public.
Michelle Stitzlein

Michelle Stitzlein maintains a studio in a former grange hall in the rural community of Baltimore, Ohio. She creates large, wall-hung sculptures with repurposed and found items, that resonate with fortune and abundance, but that also address the depletion of natural resources.

Utilizing materials she scavenges and collects, her work is mindful of the bootstrap mentality of farmers, homemakers and the depression era. Her pieces venerate imperfections found in the handmade, the patched/mended, secondhand, and pay deference to habitat enduring continual destruction due to development.

During her residency, Stitzlein hopes to sketch and photograph plants, lichens, mosses, insects, animals within the greater landscape of Denali and to find inspiration in a place preserved and protected. Future work may include imagery of majestic mountains, pristine bodies of water, or natural species found in AK that have been entirely created and assembled with refuse and trash.
Last updated: March 11, 2019