2011 Artists-in-Residence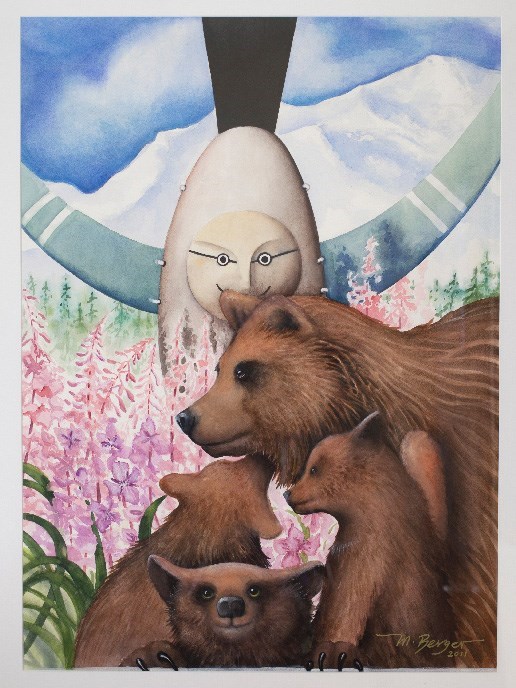 Marian Berger-Mahoney
Denali Spirits
This piece is a blessing, an invocation of the three elemental spirits I experienced during my residency: human, animal, and mineral. It is important to place the human experience within the realm of these places, which is why so much of my work focuses on the use of artifacts and the relation to place.
The mask is Athabascan, Deg hit'an from the lower Yukon. It is a messenger mask representing a crow. Runners wore the mask on their way to other villages to invite them to a ceremony performed to increase the abundance of wildlife.
There was one point during my residency when I had a close encounter with a grizzly bear near the cabin, and while I felt no fear at the moment, there was instead this deep, personal connection to its spirit that has resided with me ever since.
— Marian Berger-Mahoney, 2011


Marian Berger-Mahoney is a painter from Volcano, Hawaii. Currently she is concluding a three year project for the San Diego Zoological society illustrating a book entitled Living Endemic Birds of Hawaii. She grew up camping, hiking, and horseback riding in Alaska and in the early seventies studied red foxes residing at the East Fork Cabin. She is planning to create two-dimensional pieces that are representational close-ups, such as the inner beauty of a wildflower. Visit her website.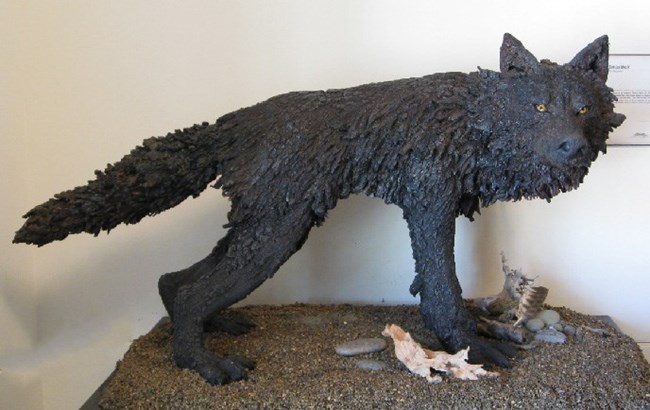 Gina Holloman
Toklat Wolf
In the wee hours, almost every morning, I had one of the most thrilling and haunting experiences of my residency. Directly behind the cabin, wolves howled as they returned from an evening hunt. Then I heard answers as howls of welcome came from a den situated a mile upriver from the cabin.
I only saw one wolf during my residency, a large black male with watchful yellow eyes. He is the inspiration for the Toklat Wolf. The howling of the wolf pack, along with the memory of those curious penetrating yellow eyes are etched forever in my soul.
— Gina Hollomon, 2011


Gina Hollomon is a studio clay artist from Anchorage, Alaska who has a background in biology. She has created several installations including life-size flocks of sandhill cranes, pintails, and Canada geese appearing to fly in one window, up a staircase, and out another window at the Nordale Elementary School in Fairbanks . She has gained inspiration from her volunteer work with the Bird Treatment and Learning Center in Anchorage , and is looking forward to absorbing and observing the natural rhythms of Denali. Visit Gina Holloman's website.
Carolyn Kremers
To my surprise, a favorite aspect of my 10-day sojourn in Denali National Park as an Artist-in-Residence turned out to be the blessed, contemplative evenings at the Upper East Fork cabin, after all the buses had disappeared. I didn't expect to fall so in love with that place—the cabin, its history and ghosts, its psychic energy and weathered beauty, its porch, and (most of all) its surprises. I hope that some of that magic shines through in the essay I've written for the park, as well as in the several poems and prose pieces that I expect to complete in the future, as they emerge from my research and experiences, over the past thirty years, in what Alaskans call Denali.
While at the cabin, I read and journaled a great deal, but not in any organized fashion. Unlike my town-and-forest life in Fairbanks, at the East Fork I abandoned (in many respects) order, forethought, and responsibility, and instead did exactly as I pleased. There was no phone, computer, Internet, work schedule, calendar, or pile of email to intrude upon me. Instead, like a songbird I could follow my heart and soul every day and every evening. This was an incredibly liberating feeling, and one that does not come often to me in the hectic, 21st-century vortex we sometimes (mistakenly) call life. Perhaps this liberated feeling is what channeled me into the prose poem, "Finding the Route"—a piece that became a visual/tonal model and gateway for the other six parts (or settings, as in musical settings) of "The Day I Hiked Up Stony Dome."
History, change, female experience, the natural world, the cosmos, and human relationships to nature and culture: these are elemental things that deeply interest me. Every place contains multiple layers, as does every person. Yet the history and spirits of a place are not always evident. If we listen and look, however, and reach out with our hands and hearts to touch and pay attention, we can begin to discern what is truly here: what has come before, what is now, and what may be to come.
This ability, I believe, is one of the highest gifts and responsibilities of the human species.
— Carolyn Kremers, 2011
The Day I Walked Up Stony Dome
Carolyn Kremers writes literary nonfiction and poetry, and is a dedicated teacher and lifelong musician. Her books include Place of the Pretend People: Gifts from a Yup'ik Eskimo Village (memoir), The Alaska Reader: Voices from the North (anthology), and Upriver (poetry). Upriver was a finalist for the 2014 Willa Award in Poetry, from Women Writing the West. Kremers' essays and poems have appeared in numerous journals, magazines, and anthologies, and she has taught at Eastern Washington University in Spokane and the University of Alaska Fairbanks. For ten months in 2008-09 and again in 2015-16, she was a Fulbright Scholar at Buryat State University in Ulan Ude, Russia. Visit Carolyn Kremer's website.
Stephen Lias
Denali
Denali bombards the senses. It makes us acutely aware of our own smallness, while at the same time challenging and nurturing our own capacity to go higher, further, and deeper. It is a land of extremes and poignant contrasts. As I set out to represent some of these qualities in music, I chose to write themes that captured some of the most fundamental emotions and memories: immense landscapes, dangerous predators, snowcapped peaks, fragile animals, and (predictably) the great mountain overlooking it all.
— Stephen Lias, 2011

Stephen Lias is Professor of Composition at Stephen F. Austin State University in Nacogdoches, TX. He is the founder and leader of Alaska Geographic's annual "Composing in the Wilderness" field seminar. He has had residencies at Rocky Mountain, Glacier, Denali, Glacier Bay, and Gates of the Arctic National Parks, and has written more than a dozen park-related pieces that have been premiered at conferences and festivals in Colorado, Texas, Sydney, and Taiwan. His compositions are regularly performed throughout the United States and abroad by soloists and ensembles including The Louisiana Sinfonietta, XPlorium Ensemble, the Fairbanks Summer Arts Festival Orchestra, and the Chamber Orchestra Kremlin. Visit Stephen Lias' website.
Denali

Performed by Chamber Orchestra Kremlin,
 Misha Rachevsky, conductor. Music only, no additional audio.

Credit / Author:

Composed by Stephen Lias

Date created:

2020-10-14 00:00:00.0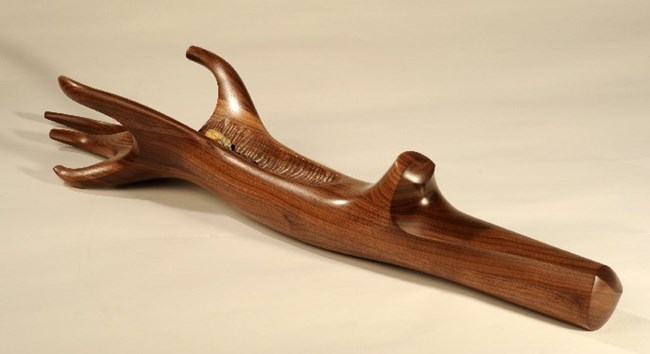 Mark Wedekind
East Fork Roots
As an Artist-in-Residence in Denali National Park, the whole park is your playground enticing you to come out and play. The historic East Fork cabin was a wonderful home base from which to explore and I used the long days of June to spend time in parts of the Park I had never been before. The large landscapes, raw geology and magical light are so inspiring, but the smaller things are often what pull my eye. Because of the cabin's location on the East Fork of the Toklat River, I spent plenty of time wandering the glacial braided channels. I was especially drawn to the willow and alder trees that had been washed out by their roots, tumbled in the flow of the river, then left in the sun, wind and rain on the gravel after the abrasive water had done it's sculptural work. This provided the inspiration for "East Fork Roots."
— Mark Wedekind, 2011


Mark Wedekind is a woodworker and furniture maker from Anchorage, AK . He has received several commissions, including 14 original benches installed at the John Butrovich Building on the University of Alaska Fairbanks campus. While he uses traditional techniques to create his art, and the physical work is completed inside his shop, his inspiration comes from spending time in the earth's wild places. Visit his website.
Last updated: March 7, 2019