2007 Artists-in-Residence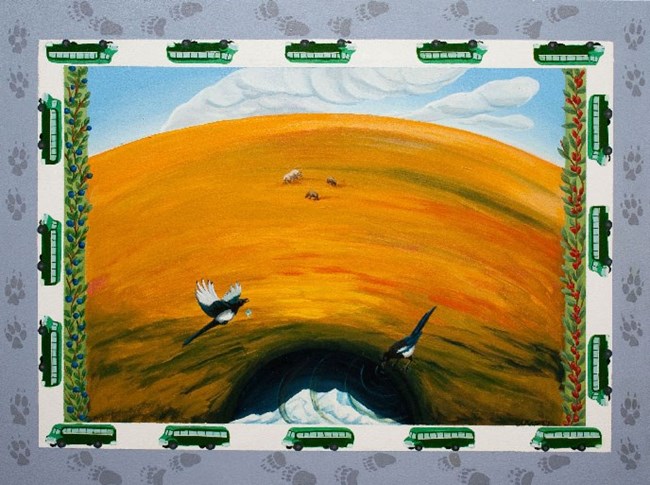 Janice Kasper
Denali, Late August '07
This painting combines my favorite and most lasting experiences of my residency in Denali — such as finding wolf and bear tracks along the rivers, eating the blueberries and trying the soap berries that the bears were eating at that time, enjoying the playfulness of the magpies and watching and waiting for the green transport buses. The hill across from Sable Mountain was a favorite place to visit in the evening and since the park was coming into fall colors it would be golden in the evening light. In all it was a wonderful experience, one that will influence my work for years to come.
— Janice Kasper, 2007

Janice Kasper is a painter who uses oil paints to provide poignant and whimsical portraits of wildlife and their environments. Her work reflects her passion for habitat conservation, but she also strives to provide fun and introspective images for her viewers. Visit Janice Kasper's website.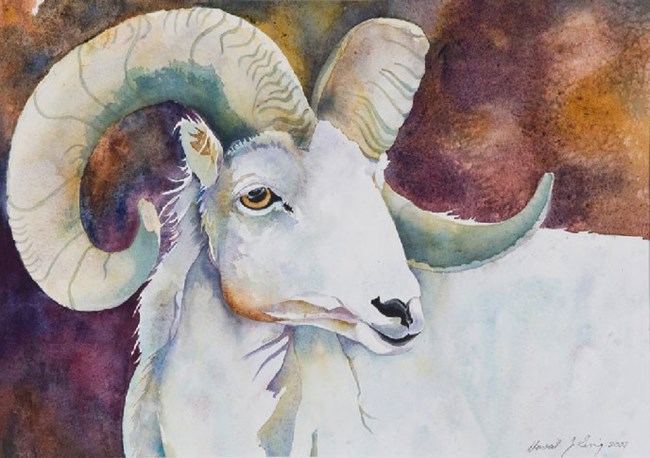 David King
Wonders of Denali
I have been drawing and painting for 40 years, and have tried all painting medias. But I like the challenge of watercolors the best. After retiring 11 years ago from 31 years of practicing dentistry in Michigan, my wife and I have been traveling, photographing, drawing and painting the animals and scenery all over the country. After visiting Denali I have a new appreciation for color, from the Polychrome Mountains to the multitude of colors of the wildflowers growing on the hillsides and tundra. Since my visit to Denali I have been trying to capture the colors and the "Wonders of Denali."
— David J. King, 2007


David King is a wildlife and natural landscape artist who works with watercolors. Retirement from a dental practice now affords him the time to explore areas and paint scenery and wildlife throughout the summer months.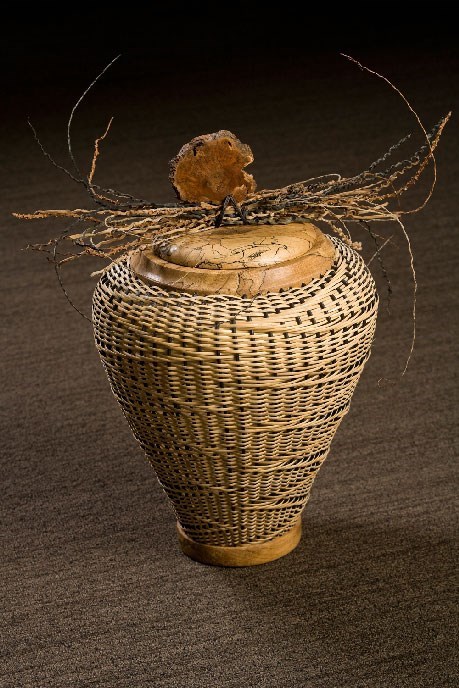 Sheila King
Meandering Glacier River
I have been making and teaching basketry for over 30 years. I have researched basket materials and weaving techniques from all over the world. I am mostly influenced by natural materials, colors and shapes. My current work consists of lathe turned wood base, rim and lid, drilled and woven, embellished with natural materials. While in Denali, I was stimulated by the colors of Polychrome Mountain, meandering glacial rivers, rolling tundra, shapes of the rock formations, and the entwined willow branches, all which have influenced my work.
— Sheila King, 2007


Sheila King has been making baskets for over thirty years, and has taught basketry for twenty years. She draws inspiration for her intricate baskets from natural shapes and colors.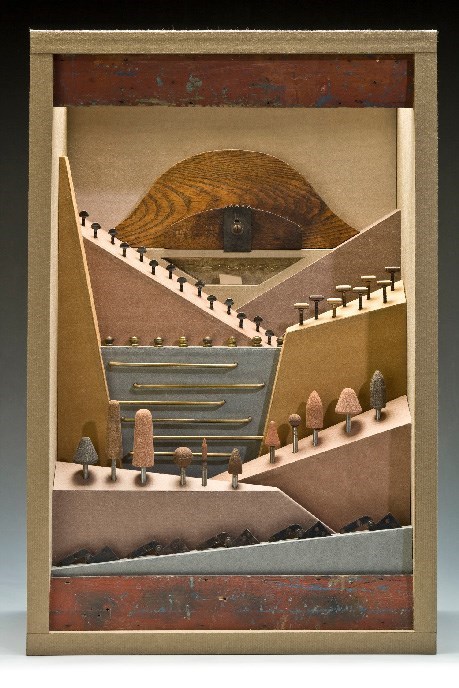 Margo Klass
Denali
I came to Denali National Park to study space — space that's physically, historically, and spiritually monumental. I sought to express all these dimensions in my "Denali," compressing the physical spaces, piling them on top of one another, and using found objects to represent plant life and flowing rivers. A cooper's tool represents Denali itself. To express coming face to face with the power of Denali, I include a sacred chamber beneath the mountain. Placed within are two forms: one to symbolize a living subterranean world, the other, a piece of Native-worked ivory, to symbolize that Denali is sacred in Native culture.
— Margo Klass, 2007


Margo Klass is a student of aesthetic space who creatively uses light to produce sculptural boxes. She studied Northern Renaissance artists for their use of spaces receding into the distance, and she has been influenced by the interior spaces and exterior landscapes of Japanese temples. Visit Margo Klass' website.
Last updated: March 7, 2019