2006 Artists-in-Residence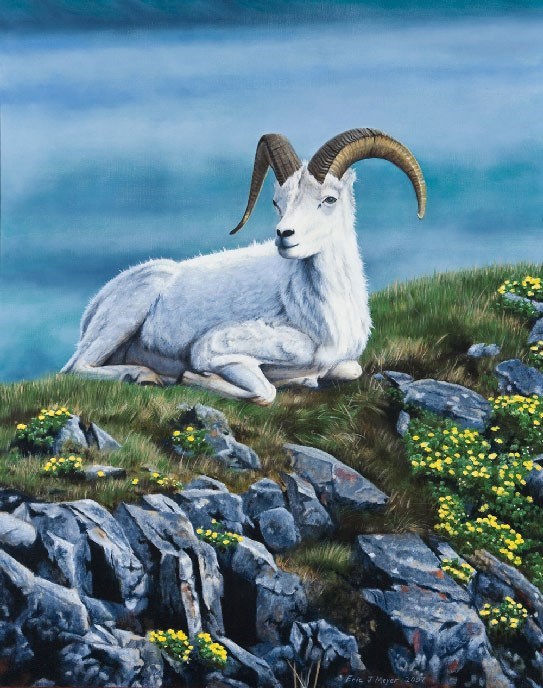 Eric Meyer
Marmot Rock
My stay at the Murie cabin was my thirteenth visit to Denali National Park. I have returned at least once a year since my first visit in 1998. Nowhere else have I found such a huge expanse to explore. With every return trip I get to know it more intimately. Nowhere else have I had the richness of experiences so necessary for my work. This year I chose a summer stay so I could capture more of the greens that I had been missing from my mostly autumn visits. I chose to paint a young Dall Sheep I came across on Polychrome Pass on one of my last days. The light was perfect and the hillside was spotted with wildflowers. The sheep was posed perfectly atop Marmot Rock, resting in the afternoon sun. I will continue to return every year as every year Denali reveals a little more to me that I have not seen before.
— Eric Meyer, 2006


Eric Meyer is a wildlife artist who works with oils. He has painted mostly fall landscapes on his previous trips to Denali, and is looking forward to expanding his work to include the lush, green landscapes of summer.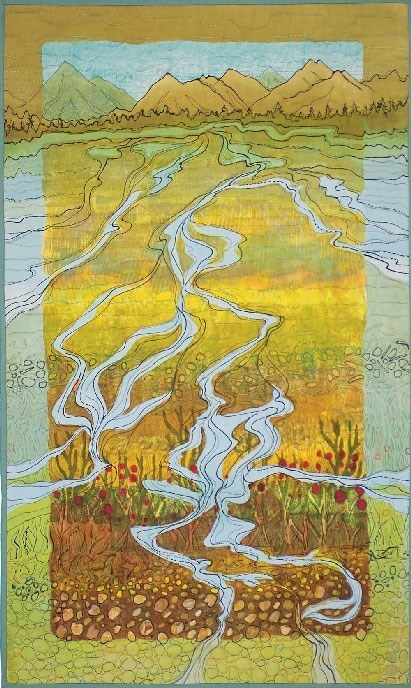 Ree Nancarrow

Glacial Run-off
The Denali Park area has been my home since 1965 and also my source of artistic inspiration. My medium of choice has been art quilts since the early 1990's. I dye or paint most of my fabrics, but I also, stamp, stencil, silk-screen and elaborately quilt them. My work in the past two years speaks specifically to a sense of place. I do not strive to do photographic representations, but convey a sense of color and detail that is specific to the area I am describing. "Glacial Run-off" is the first of many pieces that I plan to do after my Artist-in the-Park Residency in August. The 10-day stay in the Murie cabin provided an unique perspective that will influence my work for a long time.
— Ree Nancarrow, 2006
Ree Nancarrow is a quilt artist who has lived in the Denali Park area for over forty years. She chose quilting as her medium of choice in the early 1990's because it provided an enormous variety of scale, color and texture. She dyes or paints most of her fabrics, but also stamps, stencils, silk-screens and elaborately quilts them.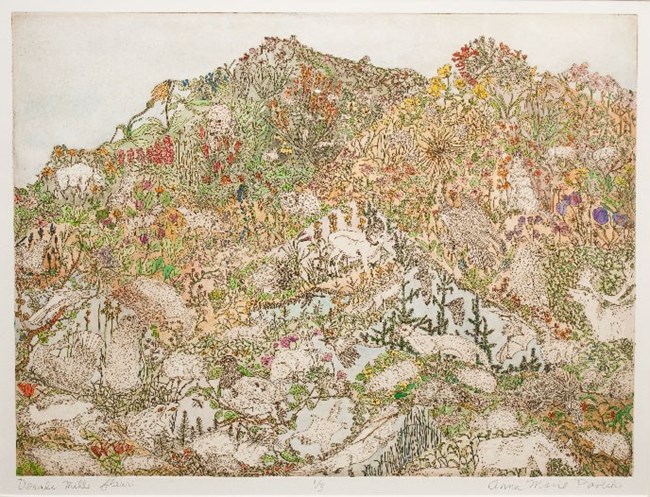 Anna Marie Pavlik

Denali Mille-Fleur
Growing concern for the survival of nature and a need to understand the relationship of people to the landscape has encouraged me to explore nature related themes. My images are concerned with extracting tangible ideas from views of natural sites, scientific data, and maps. By creating these works I hope to direct the viewer's attention to the value, beauty, and mystery found within our natural environment.
— Anna Marie Pavlik, 2006


Anna Marie Pavlik creates prints by using foam plates that have been indented with pens, pointed tools or textured objects. She uses her commitment to print making to encourage others to let nature be a presence in their lives.

Sandy Stolle
Kettle Ponds in the Pass
How can one convey something of the vastness of Denali National Park and Preserve, using wood as a medium of expression? With such a smorgasbord of jaw dropping vistas filled with rich arrays of varying textures and forms, it was difficult to select which idea to pursue. I brought a few panels of wood with me into the Park. The grain of this mahogany fit well with the flow of the land forms in the view looking east on Sable Pass. I was intrigued by the challenge to express the reflective jewels of the kettle ponds found there. What a delight it was to experience the many variances of the dramatic play of light that I saw on the few visits I made to this overlook.
— Sandy Stolle, 2006


Sandy Stolle is a wood sculptor who lived in the bush of the Northwest Alaska for twelve years before relocating to the rainforest, mountains and waters of Seward a decade and a half ago. She gains inspiration from the power and beauty of Alaskan environments. Visit Sandy Stolle's website.
Last updated: March 7, 2019